Former WWE Superstar Stu Bennett Building Career Outside the Ring
It has been a string of good news for Stu Bennett. The former WWE superstar formally known as Wade Barrett busy with a number of projects on the big and small screen. Among them is starring in I Am Vengeance hitting select theaters and on demand Friday, August 24.
The native Englishman plays the role of ex-Special Forces soldier-turned-professional mercenary John Gold. He heads back to the small British town of Devotion to find who murdered his former best friend Corporal Dan Mason (Kevin Leslie) and Mason's parents.
"To me, it's a very gritty film that has a guy with, pardon the pun, has a heart of gold. He is a good guy, but it's an incredibly gritty environment he is coming into. To me, it's a fascinating look at a guy who is going through an arc of emotions from discovering the death of his best friend to coming to clean up a town to hopefully getting some redemption in the end. We have some side stories as well with a potential love interest and helping clean up a troubled girl. We've packed a lot into a 90-minute film that will get people talking for sure."
Bennett, who is also a former bare-knuckle boxer, is no stranger to action movies. He acted alongside Colin Farrell and Terence Howard in Dead Man Down. A year or so later Bennett worked on Eliminators with Scott Adkins. His performance and reputation got him noticed by London based Evolutionary Films, who were working on the script for I Am Vengeance. Bennett saw the movie as the next step outside of pro wrestling. He began filming a few months after his last appearance for WWE in 2016. The performer can see parallels with becoming a leading man Hollywood and moving up the ladder in wrestling.
"When I was in WWE I went from being a complete nobody to a main event guy in 2010," Bennett said. "I was battling all the top stars like John Cena and Randy Orton. People asked me then if I felt the pressure of being in the top spot. Did I feel the pressure of everyone watching what I was doing? The true answer is no. The pressure I felt in my wrestling career was when I was the guy who wasn't known and had to try and build a name for myself and build a career for myself.
"I wasn't sure if I would be employed a week later. That was pressure. Very much the feeling I get now in the film world is when you're in the lead role. There is pressure attached with it, but I feel good with that pressure. That's what I want. That's the position I want to be in. I was in the smaller roles trying to get into this lead role position. I want every role I am in to be in that spot. Not saying that is always going happen, but when I'm in that spot I feel good and want to carry the movie. Hopefully, it's a big success in part because of my involvement with it."
When looking for inspirations from past action stars, he turns to Sylvester Stallone, Arnold Schwarzenegger and Clint Eastwood. He grew up admiring these heavyweights of the genre and hopes to follow in their footsteps. Bennett also cites Dwayne "The Rock" Johnson for showing the potential out there for him.
"Somebody from his background similar to mine coming from the pro wrestling world…You look at the success he has had going from the wrestling world into the acting world. He has kicked down a ton of doors for pro wrestlers," he said. "Those in the industry are taking it a bit more serious now because of what he has done and other guys like [Dave] Bautista. Once upon a time it was ridiculous to perceive an ex pro wrestler being in the acting world."
In the movie, Gold finds out his best friend and dad were investigating a Special Forces troop led by decorated Sergeant Hatcher, played by legendary martial arts film veteran Gary Daniels. Bennett was honored to play the hero to his villain.
"If you're a fan of this kind of martial arts and fighting films you'll certainly know the name Gary Daniels. He has been a big star since the 80s," he said. "If you look at the screen fighting greats in the U.K. at the moment. The top two guys are Gary Daniels and Scott Adkins. I feel very fortunate this early in my acting career I've got to work with both.
"I got to take their experience and learn from them and build on my background through the physicality of pro wrestling and add to it with their skillset too. Gary is a pro. He was never afraid to give me advice if I questioned him on something. He was always very patient with me. Obviously, I was making errors because I'm new to the screen fighting world. So, if I screwed up he was like, 'No problem. Let's re-set and doing it again.' It was great to work with a pro like that."

Those looking to see more of Bennett can find him on the upcoming new season of Ultimate Beastmaster Survival of the Fittest on Netflix. He serves as U.K. host with Fox Sports and Sky Sports News presenter Kate Abdo. Bennett sees it as the Netflix equivalent to American Ninja Warrior on a grand scale.
"You imagine Ninja Warrior being the obstacle course challenge show," he said. "Now imagine it with a few extra bells and whistles. They have me come in and host the British team. I enjoyed that. The cool thing about it is also CM Punk being one of the U.S. hosts. You get to see us interact on camera again. It was good to see him. I haven't seen him in a few years. He is doing great for himself and seems to be enjoying his life away from WWE. I was happy to reconnect with him and see what he is doing."
Similar to Punk, Bennett passion for pro wrestling started to wane in his last years with WWE. He felt a need to get away from the business, becoming fed up how things had gone there. The last thing the grappler wanted to do was be around wrestling. After taking a year to himself and staying busy, the itch returned. And the opportunity to scratch it came in the form of the rebirth of World of Sport (WOS), a popular longtime show that ran for the better part of 20 years until 1985. ITV, the second biggest network in the U.K. next to BBC, decided the time was right to bring it back. Bennett signed on to the series as general manager and commentator. He hopes the show makes its way for consumption in the United States.
"When I look back to when I started wrestling in the U.K. in the early 2000s the scene there was horrible," he said. "There were so few good wrestlers out there, it was a difficult for someone to learn because there was nobody to learn from. Maybe two or three guys who were considered good. Then the chances to get to step in the ring with them were slim. It was hard to grow as a wrestler back then. When I moved to Louisville, Kentucky and work in Ohio Valley Wrestling is when I started making strides forward in my wrestling ability.
"Now it's completely different with the talent out there in the U.K…To see how much things have improved, there are probably over 100 pro wrestlers there making a full-time living from professional wrestling alone. 15 years ago, there was maybe one guy doing it really, and that was Doug Williams. Everybody else had to basically work regular full-time jobs to support themselves. Amazing to see how much has changed. I'm thrilled I get to be a part of it with WOS."
Although Bennett hasn't ruled out another match, he is concentrating on growing his resume beyond the ring. That includes I Am Vengeance and maybe a follow-up or two.
"When the concept was initially pitched in 2015, it was pitched as a potential franchise," he said. "A vehicle for me that not only would I get one film out of it. If it goes well we can get two, three, four, and keep this rolling. The first script was certainly designed that way to give us options to do a sequel.
"We are in very advanced stages of putting a potential sequel together. We're not ready to make any announcements yet. But the distribution sales of I Am Vengeance have already been so strong that we are looking at very likely moving forward to doing more things within the franchise. It's great to be involved this early in my acting career. We're going to have some big announcements on that pretty soon."
More good news.
I Am Vengeance, in theaters and on demand Friday, August 24
Ultimate Beastmaster: Survival of the Fittest, new season streams on Netflix starting Friday, August 31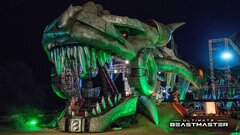 Powered by