Samoa Joe Talks 'WWE 2K19' & Taking His Feud With AJ Styles to a Personal Level
It was a decade ago when Samoa Joe was first what he calls "etched" into "digital immortality" in a pro wrestling video game. Since then a lot has happened during his lengthy career including signing with WWE in 2015. And as time goes on the experience of seeing himself among the roster of company talent in a game like the upcoming WWE 2K19 is not lost on the SmackDown Live superstar.
"I think the first time you actually see a digital representation of yourself it's crazy," Joe said during a 2K media event at the WWE Performance Center.
"It's this really exciting feeling because you are part of video game history forever, especially coming up as a gamer. As years go by and seeing the technology advance and graphics get that more precise and the characters get that much more like the people. It's surreal to see the evolution and seeing how your own character model has progressed."
It's a great time for fans who have watched Joe and others from his era succeed in the premiere sports entertainment realm. The ultimate example of the machine standing behind these performers is for a Seth Rollins gracing the cover of last year and AJ Styles chosen in WWE 2K19.
"When you look at that I think it's indicative with how wrong people were about guys like AJ Styles and myself," Joe said. "To see us here now and thriving in this environment is no surprise to us. To see someone like him on the cover of 2K, it just feels right. He had a tremendous run. And we're looking to correct that on my end."
Good friends outside the ring, Joe and Styles have taken their long-running rivalry to the highest platform. Notable past chapters in TNA Impact Wrestling have gotten them to this point. Their most recent personal story over the WWE championship has resonated with fans. It has been shown programs are at their best when lines of reality can be blurred.
"The feud has kind of never gone away, indicative of the people involved," Joe said. "Everywhere I've gone AJ has been a constant presence staring across from me in the locker room. It's no surprise to see our feud ignited here and still going strong."
Adding another level of intrigue, Joe has riled up the "Phenomenal One" by bringing in his family. During some promos his strategy is getting into Styles' head by basically calling him a bad father and husband. For Joe, the kids and spouses view it as another day at the office.
"I think at this point we have some battle-hardened families who have seen it all," he said. "They've been steeped and immersed in the lifestyle that we do. If anything, they very much understand the circumstances that exist, and it has been no issue to them."
Joe is getting rave reviews for his intensity and work on the mic by audiences watching SmackDown Live. He attributes that to company trust creatively, but also support from the team behind the scenes.
"It has been a real synergistic relationship where they've come up with stuff, and I've come up with stuff," he said.
"It has been a real collaboration. As much as I'd love to sit here and tell you, and most people would gladly, that it was all me out there. Yeah, it is me doing my thing. It's also a lot of great ideas being passed around. People who are passionate and care about the story and really getting into it. It has translated into good TV. It has been really good."
Another part of WWE 2K19 that mirrors the current events of today is the return of 2K Showcase, which will chronicle Bryan's rollercoaster career. His ascension in Ring of Honor, the growth of the "Yes Movement" in WWE and unexpected comeback to the ring. It all translates to one of the biggest underdog success stories in pro wrestling history. One Joe wasn't sure would continue with Bryan competing.
"When he returned to the ring I approached it initially with trepidation because you are concerned, and Bryan is definitely an individual where his heart is bigger than his head at certain points," he said.
"He is has done his due diligence and worked tirelessly with the concern of his own health on the line. Seeing what he has went through and the protocols, it's good to see him back. It's no surprise he is in the mix doing what he does."
Whether it's on Network programming or in the latest 2K video game, promotions outside of the WWE Universe have been acknowledged more than ever before. Joe can see the landscape of the business overall changing for a variety of reasons.
"I think just now you're seeing guys fully harness their potential on the independents and treat themselves as businesses," Joe said.
"It wasn't really done in the past with really just a select few. There were guys like myself, Bryan, AJ and a laundry list. Now you're seeing guys crunching the numbers. That is something a lot of guys didn't do back then. They didn't sit there and figure merch. They didn't think of it like a business.
"They treated as a weekend warrior hobby. I'm very happy to see this. I hope it continues to thrive, and they continue to bring interest. The landscape of the fan base has broadened so much. I think there is a lot of opportunities out there."
The former multi-time champion is also happy to watch his old stomping grounds of ROH taking bigger steps forward. Among the top is selling out Madison Square Garden with New Japan Pro Wrestling during WrestleMania weekend.
"I feel like the more buzz and competition that is out there creates a better marketplace for everybody," he said. "I'm excited, especially for the people involved. I still know a lot of guys in the office for a good amount of years. They work tirelessly. It's good to see them thrive and doing well."
WWE is making its own monumental moves including taking SmackDown Live back to broadcast TV and 20 years after debuting on UPN. In October 2019, the brand will be featured Friday nights on Fox. A major network with high visibility.
"The move will have a massive impact," Joe said. "Something that is missing from the primetime, mainstream lineup is something that is live. To have SmackDown Live on Fox is a big opportunity for WWE and a lot of the superstars. It's a big introduction back into a large portion of mainstream America. I'm looking forward to it."
Joe hopes to reign WWE champion when the transition occurs. After a controversial ending at Hell in a Cell, he gets another crack at Styles during the Superstar Show-Down October 6 in Australia live on WWE Network.
"It's a very big jewel in the entire legacy," Joe said of a potential title change at this point in his career. "It's something a lot of people said would be an impossibility. To be out there and win that championship. Not in a sense to prove people wrong but prove what I'm saying right. Certification."
WWE 2K19 Standard edition releases worldwide Tuesday, October 9; Deluxe & Collector's Editions release Friday, October 5
SmackDown Live, Tuesdays, 8/7c, USA Network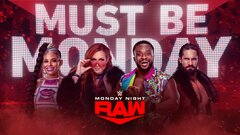 WWE Raw
where to stream
Powered by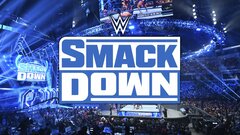 Powered by