Ring of Honor's Christopher Daniels Says 'All In' Match With Stephen Amell Will Surprise People
When Ring of Honor (ROH) wrestling star Christopher Daniels heard Cody Rhodes and the Young Bucks (Matt and Nick Jackson) were conceptualizing an independent show, he had a good feeling it would do well.
However, the 47-year-old veteran had no idea just how big All In would become, or how fast. The show sold out the more than 10,000-seat Sears Centre in less than a half hour. Demand led to the September 1 renegade event being available on Pay-Per-View, as well as streaming on Fite TV and ROH's HonorClub. Organizers even secured a television partner in WGN America to host a preshow Zero Hour.
"The day that the tickets went on sale and sold out so quickly, I feel like we all took a step back and said, 'Wow, that happened quicker than we expected,'" Daniels recalled. "I think everyone knew that with the excitement around the Bucks and Cody and the way things are going for them right now, I think they knew it would be successful. How quickly it happened was such a pleasant surprise. It was a good feeling to know the support is out there for these guys and what they want to have happen."
The card for All In features top names from promotions including ROH, NWA, Lucha Underground, New Japan Pro Wrestling (NJPW), Impact Wrestling and more. Daniels believes this show could have a long-term positive effect on the industry.
"I think people are going to start to look at professional wrestling, gauge it more successful than they thought," he said. "Maybe people will be more likely to take chances on it. Maybe television stations will be more likely to give wrestling companies opportunities. I think business-wise it sort of shows that the popularity of pro wrestling is higher than it has been in a long time. Maybe we'll see people wanting to risk more on professional wrestling and take more chances on it."
The last time a non-WWE or WCW show drew a house such as this in the United States can date back to 1993, which is around the time Daniels began his career. Then independent wrestling and the perception of it has changed drastically since then. Quality of talent, technology and increased accessibility have become primary factors.
The card for All In is jam-packed from top-to-bottom. Daniels' opponent that night is Arrow star Stephen Amell. The seeds for this unique match began in San Antonio when the actor and noted wrestling fan appeared, evening up the odds for the Bullet Club in a tag team contest. Amell ended up being sent crashing through a table by Daniels and his Addiction partner Frankie Kazarian. Daniels is approaching the match with as much enthusiasm as any other. Another day at the office.
"It is a different style match for me. It's a challenge," he said. "I feel like I've prided myself on being able to adapt to the strengths and weaknesses of any opponent I've been able to face. Stephen in terms of wrestling specifically, he is very untrained. But he is an accomplished athlete and a fan growing up.
"That basically lends itself to an easier time for me than when WCW did it with Dennis Rodman and Karl Malone or Jay Leno. Stephen Amell is probably the best pure athlete and wrestling fan that has ever dabbled in professional wrestling. I challenge anyone to find someone better suited for it than him. I'm going into this with a lot of expectations. I think it's going to surprise people how well it's going to go."
Amell is known for physicality on the Arrow set. At WWE SummerSlam in 2015, the Green Arrow turned a lot of eyes with a standout performance teaming with Neville against King Barrett and Rhodes, who was then Stardust.
"I think what Stephen is game for and willing to try, it's probably a lot higher bar than people are going to expect," Daniels said. "I've been reading a lot of social media of people's expectations. I'm pretty sure we're going to exceed anyone's preconceived notions of what this match is going to be."
I'm going to retire Christopher Daniels. https://t.co/NRnsxUrGP7

— Stephen Amell (@StephenAmell) August 6, 2018
I'm going to cancel ARROW. pic.twitter.com/DR9lx5wVlj

— Christopher Daniels (@facdaniels) August 7, 2018
Social media has added fuel to the fire with the opponents going back and forth on Twitter. The "Fallen Angel" and ring general went as far as to say he will cancel Arrow. The comic book fan is having fun with the opportunity.
"Stephen has shown he is isn't afraid to throw jabs on social media," he said. "It's nice this guy is on board a hundred percent. I feel the next the couple of weeks there is going to be a lot of story being told through our social media."
The former ROH champ believes being asked to participate in the match exemplifies a level of trust from not just the Bucks and Rhodes, but Stephen himself.
"To put that challenge out there and express that desire to work with me, I take that very seriously," Daniels said. "I'm going to do everything on my end to make this match stand out. On a card that already has a lot of great matches announced and great talent, I'm going to do my best to make my match stand out among them. It's a high bar to meet. I'm sure Stephen and I are going to do it."
Daniels is happy to see the growth of wrestling in 2018, especially Ring of Honor. The promotion recently sold old its debut in Madison Square Garden next April, a collaboration with NJPW titled G1 Supercard. The SoCal Uncensored member believes the success of All In certainly helped in seeing the market that is out there for wrestling outside of WWE.
"There are new doors being opened every day for Ring of Honor and beyond," Daniels said. "That inspires me to try to stay at that top level so when these opportunities arise my name is on the short list to be a part of it all. A year ago, we had no idea that Madison Square Garden was going to be an opportunity. Do I want to be a name on that roster sheet for it? Well, absolutely.
"A year-and-a-half ago All In wasn't a possibility. When it came around, I absolutely wanted to be part of that show and history like that. All of these historic events that are coming up and events coming up in the future that nobody has even contemplated.
"When they come around, I want to be a part of it. I want to be in the mix. It's incumbent on me then to stay at that top level and continue to hone my craft and be the best that I can be, so when the opportunities come up, the idea of Christopher Daniels being a part of it is a sure thing."
All In airs live 7/6c on September 1 via traditional PPV, Fite TV and ROH's HonorClub. The preshow Zero Hour broadcasts 6/5c on WGN America.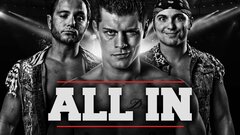 All In
where to stream
Powered by