That Finale Was Litt! 'Suits' EP Breaks Down Katherine Heigl's Impact, Louis' Win & Donna's Love Life
Suits walked into Season 8 with a lot on its plate.
Original cast members Patrick J. Adams and Meghan Markle had left on the heels of Gina Torres' departure for the show's in-production spinoff, and Katherine Heigl had signed on for a role nobody knew too much about. Could Suits withstand so many alterations? Well, it appears that we had nothing to worry about.
After a tense battle for managing partner, newly-installed leader Robert Zane (Wendell Pierce) bested Harvey Spector (Gabriel Macht) and brought with him Heigl's prickly litigator Samantha Wheeler… and a slew of new tensions to work out. So many, in fact, that the dust didn't even get close to settling until tonight's midseason finale.
See Also
The actress plays ballsy, abrasive new legal Samantha Wheeler in the USA series.
The episode started with Sam and Alex Williams (Dulé Hill) duking it out in court against one another for name partner and ended with entire firm finally realizing just how badass they were as a team. Oh, and the unlikeliest but most lovable daddy stepped into the coveted managing partner position.
Here, showrunner and executive producer Aaron Korsh breaks down how it all shook out.
First off, Katherine Heigl was a fantastic addition! I really thought this was gonna be like a Harvey-Samantha kind of battle, but she fit in to all the stories so well.
Aaron Korsh: It was really serendipitous and I think she's published some stories about this, but she [called us]. She became a fan of the show and contacted us about maybe developing a show with her. And at the time, I was like, "We have Suits and we're doing a spinoff. My plate is a little full to develop a new show right now." She was unaware that Suits was gonna continue after Season 7, so she was like, "How about I come work on Suits?"
I thought it was a great idea, but it's very new to me. I had never before hired an actor without a role in mind. It's not usually the way I work. So it kind of forced us to be like, "Who is this person?" And it just worked out that [Robert] Zane was coming over. Let's have her come with Zane. And I feel like her presence, it deepened and really did shake up the world. And it allowed for so many different relationships. I love her relationship with Robert Zane. I love her relationship with Donna (Sarah Rafferty). It's surprising.
Their first real scene together was like, "OK, we need more of this all the time."
Yes, I loved that scene. I loved the bathroom scene, but then the fact they evolved and ended up being very close… maybe closer, or as close as Samantha is with anybody maybe with the exception of Zane. I loved her. I loved her Alex stuff, the Harvey stuff. It shook up the dynamics of the place in a great way and I was very happy.
How daunting was it to make so many changes after losing Patrick J. Adams and Meghan Markle?
There have been other times when we've been backed into a corner and I've been petrified that we wouldn't be able to get out of it. But this, at least, it may or may not have worked, but there was no corner we were in. It's a rejuvenation. I wasn't unaware that Katie had a reputation prior to coming in, but I will say, on screen and off, she has been such a pleasure. Everybody loves working with her. I love working with her. This could not have worked out better from my perspective.
I think a lot of people had that concern about the baggage that she brought…
Yeah. And I feel like some people watch television with an agenda of some sort. When I watch my favorite shows, I can't wait to see what they want to serve me, right? I don't think about what they should've served me.
See Also
Unwind from a stressful day with these lighthearted and comforting shows.
Exactly.
That's not the way I work, but I know some people want this sort of something or that something. Those people aside, I think, if you watch Samantha, we did not want her to be instantly likable. Harvey was not necessarily instantly likable. A lot of characters weren't — Louis (Rick Hoffman) certainly wasn't. S0 we wanted fans to have a little bit mixed feelings about her. Zane clearly valued her and liked her, so that there was something there, but we wanted you to have mixed feelings about her. And then as the season progressed, you'd understand her more.
Again, I cannot speak highly enough about her or all the other people that have joined the cast in the last year or two. Dulé, Amanda Schull (Katrina)… she's been so great. And also, I'll include obviously, Wendell Pierce, Aloma Wright as Gretchen. I love Ray Proscia as Louis' therapist, Dr. Lipchitz, and Jake Epstein as Brian. The real challenge was to get fit [them] all into an episode.
When you were starting the season and knew that the battle in that first episode would be over managing partner, did you know you'd end this run of episodes with a reshuffling of who's at the top?
I can't 100 percent remember when we knew that, but it was pretty early. As we're going through the season, we just start to see things that feel like you've been leading to them the whole time, even though you didn't see it.
Everything dovetailed in the final moments, and the switch-up makes perfect sense.
The writers have come up with a lot of the Louis-Sheila (Rachael Harris) stories and when we started looking at them, it just felt like, "Oh, my God, they're gonna find out they're gonna have a baby." And like how ironic is it that Louis — who has always been sort of defined by his ambition — finally lets go of his ambition and that is the moment where Donna says, "We need you to be managing partner." We just loved it.
And also, it pays off Donna's role in the firm. I think people don't think she's worthy of being COO. And it's like, look, if the true definition of a COO is someone who keeps a place functioning and alive, well, Harvey and Zane were gonna kill each other and she fixed it. And so, it kind of paid that off and it paid off for Louis. Who'd have thought in Season 1, Episode 1, that they'd be rooting for Louis to take over?
It felt like the culmination of his hero's journey, and we didn't realize that he was on one. And after all of these years, to see him get that hug from Harvey without having to ask for it!
[Laughs] I love it! I get a lot of feedback, "Can Louis ever catch a break?" And I'm like, "When Louis catches a break, it's gonna be such a big break, you're not even gonna believe it." And I think, unless something really significantly changes, we will ultimately see Louis have a baby. Which is the biggest break he could catch.
I feel great for Louis. It's kind of funny. I don't know if he's the only one, but Rick Hoffman doesn't care about whether Louis catches a break or not, because when Louis doesn't catch a break, it gives him so much to do! [Laughs]
See Also
Favorite TV character, TV snack, dream co-star, and so much more.
Does this set up for a much more united team next season?
To some degree. The notion of who gets a name on the wall, who is managing partner, who's senior partner, that's sort of not on the table at all in the back six episodes. I might be wrong, because we're not totally finished mapping it out, but in large measure, people are not competing within the firm for a spot. So, to that extent, they're more on the same side.
There will be a lot of outside foes. However, it is Suits, and without some sort of personal conflict, I don't think we would be what we are. So there's still gonna be, without a doubt, internal conflicts within, but it isn't gonna be about power struggles. I think some of it is gonna have to do with people accepting Louis in his new role, Louis accepting Louis in his new role, you know? There will be absolutely a lot of that.
There is also is still that file on Samantha's unethical actions sitting out there. And Harvey knows about it now…
We may or may not ever pick that back up because there's a million different things we can pick up, but it's certainly something. We do have something coming up, I think it's in Episode 13, that's something we did last season that is gonna come back and sort of rear its head for one or maybe more episodes.
I feel like I should give you another bit of a teaser…
Yes, please!
In the back six, Donna is gonna get a love interest.
Oh, you might want to set your Twitter to private.
[Laughs] Well, we'll see… but she is gonna get a love interest. I think a lot of people, if it's not going to happen right now with Harvey, want her to have a love interest. And we are gonna both have a love interest for her and we are gonna delve a bit into her backstory, so I think fans will really be happy. I sort of gave that assignment to the writers but I don't know what they have come up with yet. And obviously, it's gonna interplay with the present, so I'm excited to hear what they have.
Are you Suit-ors excited, too? Comment below!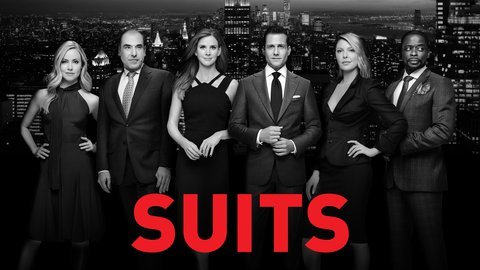 Suits
where to stream
Powered by