Rupert Grint Talks Season 2 of Sony Crackle's 'Snatch' Series & Moving to TV After 'Harry Potter'
Harry Potter's Rupert Grint is moving on from magic into the world of heists with Sony Crackle's Snatch, which enters its second season Thursday, September 13.
The actor, known for playing Ron Weasley in the blockbuster film franchise, reprises his role as Charlie Cavendish in the crime comedy, which sets its sights on Spain for its sophomore run.
With new baddies to conquer and territory to fend off, there's plenty in store for Season 2. Grint spoke to TV Insider about the new episodes, executive producing the streaming series, and more.
What can fans expect from Charlie this season?
Rupert Grint: He's kind of new Charlie — he does have a fake tan [Laughs] can't wait for that — I think he's matured a lot. In the first [season] there was this blossoming love interest for Charlie – he fell in love with Chloe Koen (Stephanie Leonidas) — a jeweler who helped out with a lot of scams. By the end of Season 1 we're kind of in a relationship, but somewhere on the way from London to Spain she kind of just heads off and leaves Charlie alone. So, at the beginning of Season 2 he's still a bit damaged from that. And I think that kind of changes him a lot.
He's a bit more grown up, he's not drinking as heavily as he was, and he's kind of straightened out. The whole gang is trying to live a life without crime – doing things properly with running the bar on the beach — and everything seems to be going pretty okay. Of course, it's not long before everyone misses their old life and the thrill of doing a scam.
Last season, Charlie was hung up on Chloe. Will anyone else grab his attention going forward?
Yeah, there's kind of something towards the end — nothing really major. In this series Charlie is a lot more ready to step up to the plate, take charge, and kind of lead. So that's something we see him get keen to do. He kind of feels like he doesn't want to be in the background. He has this desperation to prove himself among the gang because he is not a very natural fit for that kind of world. So there's a lot more of him trying to take control and impress people.
Charlie is a distinctly posh character. Is there anything in particular that inspired your performance?
Now that I've seen the second series, I know him quite well. So he becomes his own thing. He's quite a strange character, he's got confused life I think, and a lot of it is an illusion where he's from this once wealthy family that live in squalor. He's really proud of that family and what they once were, and he kind of wants to hold onto that.
Although he does reject his family — he never talks about them, he stripped away from that and so it's confusing sometimes to know why he still puts up this front. All of these characters are from broken families and that's the reason they find each other and form this dysfunctional family in a way. [Laughs] He's not this natural gangster material, he just shouldn't be there.
At its core, the show is really about friendship and family. Are you all as close off-screen as you are on?
We get on really well. It was great filming in Spain. It was a long time — five months — it was a lot of fun socializing and living near each other. It's a great bunch.
As an executive producer on the show, what's the collaboration process like?
It's really interesting, I've never done anything like this before — Snatch is my first look into this. It's an interesting perspective; I think I've learned a lot through being on that side of things. It's more of a kind of laid back role, but it's interesting to have an opportunity to see that side of what it takes to make a production. It's really fun.
You've done everything from film and music videos to voice work and now TV, is there anything else you'd like to pursue? Directing perhaps?
Yeah, I don't think I'd be very good. I'm not great at making decisions; I don't have that kind of assertiveness that I think it takes to be a director or also a concept of having the whole story. I think directing is quite difficult, I don't think I'd rush into that. Maybe long-term down the line. And I'm enjoying getting quite well rounded. In Potter it was so much fun, but it was quite a bubble. So I'm enjoying exploring and kind of trying new things.
Suits are one of your character's staples; do you ever snag them for yourself?
Yeah, some of them, not all of them [Laughs]. It's quite a bold taste. Also Spain is so hot. It is not a very practical way to dress — and the cravats… It was a lot going on especially when you add a fake tan.
Charlie is some of the show's best comic relief. Is it easy to deliver those scenes or do you break sometimes?
Oh yeah, all the time. I'm the worst for that. It's never really those kind of scenes, it's always the serious scenes, like someone's death where you absolutely shouldn't laugh. That's when I find it the most difficult, the serious more quiet scenes. They're a funny bunch of people. It was a regular occurrence.
For those less familiar with the show, what makes Snatch worth watching?
Well, for fans of the [Guy Ritchie] film Snatch — it very much is of that world. Although it is completely new characters and set present day, it has that language and dialogue that's is very much of that tone. It's just a lot of fun, you never really know where it's going. There's some great characters, especially this season, we've got some great Spanish actors that are just really cool. Obviously, a lot of times it can get quite serious and dark as well.
The series is available to binge on Sony Crackle. Are you binging anything right now?
Yeah, I think TV has been really good the last year. This binge-watching has become such a powerful thing. I've been watching a lot of crime, true crime, and Sharp Objects with Amy Adams is really good. [Also,] Stranger Things. I'm really enjoying doing TV as well. It's fun to build up a character over a series and have a journey with it which you don't always get with film when you're trying to tell a story in a short amount of time. Especially with Snatch, we never actually knew what was coming because it was being written as we went along. So it's quite an exciting way to work.
Was TV is appealing to you because of it's similarity to the Potter franchise, in that it's a series?
Yeah, absolutely, I loved playing Ron, I mean that was a long time – 10 years with the character in that situation. I did put a lot of myself into Ron. I've always had a connection to that character anyways, so we merged into the same person by the end. I think that's why I'm kind of enjoying doing [TV].
I think with every character I've done you always put a bit of yourself into it. But yeah, it's a very similar process. It's kind of unique to Potter and other films that are a series I guess, they're really carving out a journey, and that's something that [you get to do with TV]. So it's definitely a similar process, and I'm really enjoying it at the moment.
Snatch, Season 2 Premiere, Thursday, September 13, Sony Crackle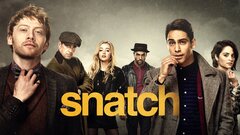 Snatch
where to stream
Powered by