Crackle 2017 Upfront: New Series From 50 Cent; Renewals of 'Snatch' and 'SuperMansion' and More
At its upfront presentation Wednesday, streaming service Crackle announced the renewal of Snatch for Season 2 in 2018, and greenlit the original scripted drama The Oath (working title) from executive producer Curtis "50 Cent" Jackson and his G-Unit Film & Television Inc.
Here's a rundown of these and more of Crackle's upfront announcements:
New Series:
The Oath (working title): Executive produced by Curtis "50 Cent" Jackson and his G-Unit Film & Television Inc., this gritty drama series explores "gangs made up of those sworn to protect and defend. These secret societies are nearly impossible to get into–but once inside, members will do what they must to protect each other from enemies on the outside and from within their own ranks."
New Movie:
In the Cloud: This techno-thriller from Tim Kring's Imperative Entertainment and Brian Kavanaugh-Jones' Automatik "explores a tech company shrouded in secrecy as it develops software capable of uploading a person's consciousness and memories to a virtual space regardless of location, time, and state of life." Production begins in summer 2017 with cast to be announced.
Series Renewals:
Snatch (Season 2 in 2018); StartUp (Season 2 premieres Sept. 28); the Bryan Cranston and Stoopid Buddy Stoodios-produced SuperMansion (Season 3 in 2018, with two new specials in production to debut this fall and early next year)
See Also
'They're introducing a new character in Season 2, and that's going to be the guy that I end up playing,' the actor says.
Ron Perlman will be joining StartUp for its second season, and will also serve as a producer. Here's a first-look clip of Perlman in action that Crackle released Wednesday:
Scripted Series in Development:
Accident Park: Comedy about lovable loser Vern, who "uses the settlement from a personal injury lawsuit to buy the notoriously dangerous local theme park where he was injured."
Tribes: Drama series imagines a future when a virus has ravaged the West Coast of the United States, and the quarantined inhabitants there revert to a tribal way of life.
The Row: This drama centers around a select group prison inmates who have the choice between living the rest of their lives on death row or going on an experimental space mission with a 1 percent chance of survival.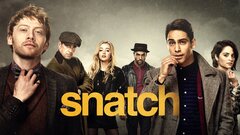 Snatch
where to stream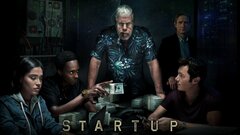 StartUp
where to stream