Julie Chen Taking Break From 'The Talk' After Husband Les Moonves' CBS Exit
Julie Chen is not returning to The Talk for a few days following her husband's resignation as CEO and Chairman of CBS.
"I am taking a few days off from The Talk to be with my family," Chen said in a statement. "I will be back soon and will see you Thursday night on Big Brother."
Moonves stepped down from his position over the weekend following two reports and over a dozen women coming forward accusing him of sexual harassment and assault. They spoke to The New Yorker's Ronan Farrow alleging that Moonves forced them into oral sex, exposed himself without their consent, became physically violent, and damaged their professional careers.
Moonves released a statement about the ousting:
"For the past 24 years it has been an incredible privilege to lead CBS's renaissance and transformation into a leading global media company. The best part of this journey has been working alongside the dedicated and talented people in this company. Together, we built CBS into a destination where the best in the business come to work and succeed.
"Untrue allegations from decades ago are now being made against me that are not consistent with who I am. Effective immediately I will no longer be Chairman and Chief Executive Officer of CBS. I am deeply saddened to be leaving the company. I wish nothing but the best for the organization, the newly comprised board of directors and all of its employees."
Former COO, Joe Ianniello, is acting as CEO in the interim.
The Talk's co-host Sharon Osbourne addressed Chen's absence. "It's a bittersweet day for us… We're about to talk about something that affects everybody's lives here at CBS," she said. "And I've never been nervous in my life, but I'm kind of very nervous right now. As you all know, Julie's husband is in the news and she's taking off time to be with her family."
The talk..talks Les Moonves #thetalk #juliechen #cbs #metoo #sharonosborne #LesMoonves pic.twitter.com/ySTULUrmid

— Ramelmilton (@Ramelmilton1) September 10, 2018
The Talk just premiered it's ninth season on Monday.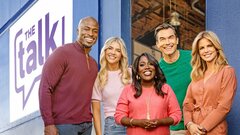 Powered by