Roush Review: Creepy, Compelling 'You' Is an Addictive Thriller
Going "ewwww" while watching You is understandable.
Stalkers are creepy, even ones as charming as Joe Goldberg (Gossip Girl's perfectly cast Penn Badgley), the smart, seductive and certifiable bookstore-manager nerd in whose head we lurk throughout most of this addictively grim thriller of dangerous romantic obsession, based on Caroline Kepnes's 2014 novel.
See Also
Plus, Sera Gamble shares how the show differs from the book.
We don't really need Joe's incessant voice-overs to tell us he's gone instantly gaga over Beck (an ethereal Elizabeth Lail), a would-be writer whose real name is Guinevere and whose true gift is for self-exposure: on social media, a recurring target of the series' satirical barbs, and through the ground-floor window of her New York apartment. (Young lady, invest in blinds!)
"It's like you've never seen a horror movie — or the news," Joe sardonically muses while he peeps, making You something of a cautionary urban fable. We, of course, have seen too many examples of Lifetime's patented women-in-peril melodrama, though Joe's warped wit, honed by Badgley's sensitive-guy panache, sets the show apart and somehow above the fray. He's actually a bit of a mensch when he's not being menacing, mentoring a neighbor's neglected boy and feeding him heroic classics like The Count of Monte Cristo.
Joe's self-awareness can even be disarming, like when he's trapped hiding in Beck's shower and getting doused: "I've seen enough romantic comedies to know guys like me are always getting into jams like this." True, but it's no laughing matter when he goes full Norman Bates psycho on anyone he sees as a threat to his pursuit.
In You, love means never having to say you're stable.
You, Series Premiere, Sunday, Sept. 9, 10/9c, Lifetime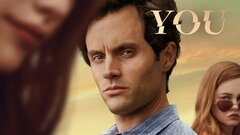 You
where to stream
Powered by