Roush Review: This Fall Season, TV Gets Personal
No medium has changed more in recent years than television. How we watch: streaming, downloads, the almighty binge. Where we watch: Hello, bottomless pool of Netflix! Even when we watch, with rarely a break between so-called seasons in a nonstop and overwhelming flow of programming.
But as we assess, in our yearly tradition, a heaping new lineup of fall TV, what hasn't changed is why we watch: The shows that matter are the ones that make us care. Echoing the breakout series from the past two years — NBC's This Is Us and ABC's The Good Doctor — the most promising provide strong emotional hooks, in a variety of genres, to help cut through TV's clutter.
See Also
NBC, CBS, and The CW are all adding to their lineups.
Even comedies can give you a lump in the throat. You'll have to wait until November for my favorite, Netflix's The Kominsky Method, but it's worth it. This marvelously melancholy meditation on aging, from The Big Bang Theory's Chuck Lorre (a personal best), stars Michael Douglas and Alan Arkin in top form as an acting teacher and legendary Hollywood agent who've both seen better days. As these endearing curmudgeons endure loss and life's humiliating aches and pains, you may not know whether to laugh or cry. (Both responses are acceptable.)
See Also
What goes around truly does come around in the TV world.
Same goes for Amazon Prime Video's entrancing romantic comedy Forever, starring Saturday Night Live veterans Maya Rudolph and Fred Armisen in a uniquely affecting exploration of love over the very long haul. To say more would give too much away, but I devoured the entire season in a state of dazed bliss. I wish I were as attached to Jim Carrey's creepily depressed kiddie host from Showtime's Kidding or Jennifer Garner's uptight wife in HBO's off-putting Camping. They and their shows are more unpleasant than amusing.
High-concept dramas with sci-fi leanings also aim for the emotional jugular. NBC's intriguing Manifest is built around one of those cosmic mysteries you worry will never pay off — what happened to a flight that vanished for five and a half years before landing? — but it's just as compellingly invested in the impact on the lives forever changed by this weird phenom. Even better is Hulu's The First, starring an excellent Sean Penn. Grounded in realism, the eight-parter tells of preparations for a manned mission to Mars that's clouded by tragedy and complicated by all-too-human conflict.
On a lighter note, CBS's charming God Friended Me takes a more earnest approach to its whimsical parable. The Mayor's charismatic Brandon Micheal Hall is an atheist who's suddenly guided to perform do-good missions by messages from a possibly divine social-media account. Tagged by a Deity? Good heavens.
Less fancifully, The CW's All American contains appealing elements of Friday Night Lights and The O.C. in its sudsy DNA, when a high school football prodigy (Daniel Ezra) is recruited from his South L.A. neighborhood to a swank Beverly Hills squad by coach Taye Diggs. Full hearts and moist eyes are the norm on the new drama most obviously influenced by This Is Us: ABC's tear-jerking, smartly cast buddy soap A Million Little Things, about a group of complacent friends rocked into poignant self-examination when one of the gang inexplicably kills himself. Will the suicide premise turn viewers off? Remains to be seen. It's often hard to predict which shows can sustain over time.
Procedural crime and medical dramas tend to be easier sells. Especially when the lead is as engaging as Castle's Nathan Fillion in ABC's The Rookie, as a 40-year-old "walking midlife crisis" seeking new purpose as a fledgling LAPD cop. His humor and pathos make this the best of an otherwise generic and overly familiar lot that includes CBS's gritty FBI and NBC's pious New Amsterdam, starring The Blacklist's Ryan Eggold as the saintly but annoyingly smug savior of a New York City public hospital.
For the flip side of heroism, Lifetime's gripping You digs addictively deep into the psyche of a dangerously obsessed romantic (Gossip Girl's Penn Badgley) who goes to great, grisly lengths to snare a winsome aspiring writer (Elizabeth Lail). Hard to look away from, even when you want to.
And is there a trend more pervasive on TV than nostalgia? Rising above a tepid batch of new network comedies, ABC's The Kids Are Alright flashes back to the 1970s to introduce a bustling Irish-Catholic family that makes The Goldbergs look tame. Mary McCormack and Michael Cudlitz are hilarious as the tough-love parents of eight unruly lads.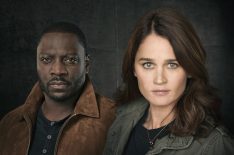 See Also
What are the new shows will you see on ABC later this year? We've got the full list by day.
Otherwise, it's a parade of reboots (CBS's flashy but hollow Magnum P.I., The CW's Charmed), spinoffs (FX's Mayans M.C., The CW's Legacies) and one revival whose renewed timeliness is inarguable: CBS's classic Murphy Brown, with a mission to mine laughs from our turbulent "fake news" times.