CBS Has Found Its New 'Magnum, P.I.' in Jay Hernandez
Looks like Tom Selleck's shoes can be filled after all.
Deadline reported Tuesday that Jay Hernandez will take over the mustachioed actor's iconic role in CBS' reboot of the classic cop series, Magnum, P.I.
The revival centers on Thomas Magnum (Hernandez), a decorated ex-Navy SEAL who becomes a private investigator after returning home from Afghanistan. He gets help from fellow vets Theodore "TC" Calvin and Orville "Rick" Wright, as well as from disavowed former MI-6 agent Juliet Higgins (an updating of John Hillerman's famous character as a woman).
According to The Hollywood Reporter, Hernandez's Magnum will don a Detroit Tigers ball cap as Selleck did during the original series, which ran from 1980-88 on CBS. But no word yet on whether he will sport the sort of mustache that helped make Selleck a star and a sex symbol during the '80s (or if he'll have any sort of mustache at all, for that matter).
Hernandez is primarily known for his film work, most recently appearing in the Netflix original Bright. On TV, he was a regular on the 2006-07 ABC series Six Degrees, and most recently guest-starred on Scandal in 2016.
No other cast, nor a premiere date, for the new Magnum, P.I. has been set yet. As with the original series, the pilot for the reboot will be set in Hawaii. Peter Lenkov (no stranger to the islands given his work on CBS' very successful Hawaii Five-0 reboot) is writing and executive-producing, with Justin Lin, who has helmed a number of the Fast and the Furious movies, directing.
What do you think of Jay Hernandez as the new Magnum? Let us know in the comments below!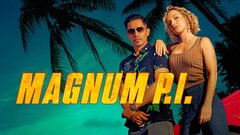 Powered by