'The Middle' Spinoff About Sue Heck Scrapped at ABC — Will It Land on Another Network?
UPDATE (11/23/2018):
Bad news for The Middle fans: it looks like the series' spinoff focusing on Eden Sher's Sue Heck is not going forward — at least, not at ABC.
After the network shot a pilot of the show, they opted not to pick up the comedy to series on Wednesday. Sue Sue in the City was set to focus on Sue's adventures as a young adult in Chicago, after leaving her hometown of Orson, Indiana (where all nine seasons of The Middle took place).
But not all is lost yet — Deadline reports that producing studio Warner Bros. TV might be shopping the project to other networks. Perhaps Sue Sue can follow in grown-ish's footsteps and land on Freeform? Fingers crossed!
Original Story (8/14/2018):
After months of rumors, we're that much closer to a The Middle spinoff following Eden Sher's Sue Heck.
The Middle had a successful nine-season run, which wrapped up in May, and it wasn't long before buzz around a spinoff began to build. The chances of it coming to life only multiplied when Roseanne was canceled at ABC, leaving a prime spot open in the fall. Of course, The Conners ultimately ended up taking that slot, but the creators of the spinoff had more time to pull things together.
Entertainment Weekly reports that Middle creators Eileen Heisler and DeAnn Heline have been given the green light with a pilot order on ABC. It took some time for the go-ahead, apparently, as the network had to make deals with Heisler, Heline, and Sher before committing.
ABC's logline for the pilot reads, "Cue the Sue happy dance. More Sue Heck is on the way. The series follows the twentysomething adventures of eternal optimist Sue Heck as she leaves the small town of Orson to navigate the ups and downs of a career and young adulthood in the big city of Chicago."
Considering ABC's luck with spinoffs, its hopeful that the Sue Heck-focused series will end up successful. It would join the ranks of Black-ish spinoff grown-ish (airing on ABC's sister network Freeform), as well as The Goldbergs' upcoming spinoff, Schooled.
Plus, the show would also mean fans could keep up with the rest of the Heck family — that is, as long as the pilot gets a series order. Until then, we'll keep doing Sue's happy dance.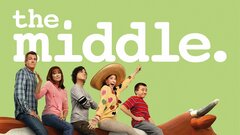 Powered by