Is 'The Proposal' Couple Dr. Buck & Nicole Still Together?
ABC's love-story-in-one-hour The Proposal matched yet another couple Monday night!
This week, bachelor Dr. Buck Parker, stepped behind the glittery pod to find a new life partner. He admitted he's called off a former engagement because he was going through a "midlife crisis" but now he's ready for a family and love.
The Doctor has left the pod! #TheProposal pic.twitter.com/n6k6c4hb5G

— The Proposal (@TheProposalTV) July 17, 2018
After the first round, single ladies Nicole, Simone, Stacie, Katie H., Reola, Aesha, and Amanda remained. Then after the second round and beachwear time, Nicole, Katie, Stacie, and Aesha moved on.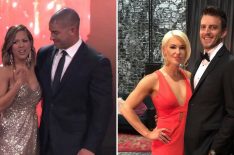 See Also
Find out how these quick matches are doing now.
In the third round, Dr. Buck's sister Camille "grilled" the women about what they want in a husband. Sadly, Stacie didn't make the cut which means Nicole (model from NYC) and Katie (loves "game nights, cuddling, and drinking wine") made it to the final round.
The moment arrived and Dr. Buck got down on one knee in front of Nicole, slipping the diamond ring on her finger, much to her surprise. They shared some kisses and hugs and the crowd cheered.
And we're happy to update you about the couple — they're still together!
Congratulations to Nicole and Buck! And for those wondering, they ARE still together! #TheProposal pic.twitter.com/6lMZsFxcPG

— The Proposal (@TheProposalTV) July 17, 2018
The Proposal, Monday, 10/11c, ABC