Fox Deploys 'The Orville' to Help Fans Orbit Comic-Con 2018
Every Comic-Con attendee knows that finding a taxi near the San Diego Convention Center is almost as tricky as getting an invite to IGN.com's annual bash. But thanks to Fox, weary travelers can cruise around town in sci-fi style by grabbing a ride in pedi-cabs inspired by Seth MacFarlane's The Orville.
Starting Thursday and running through Sunday afternoon, a fleet of custom "pedi-pods" will provide free rides to fans to any location around the Gaslamp Quarter. Passengers will get sneak peeks at exclusive content from Fox's hit space adventure will air and a special U.S.S. Orville crew pin. Because SDCC is all about the swag.
Additionally, fans can follow @TheOrville on Twitter to find out when cast will be making an appearance during the activation and grab the mini-poster below from the Fox booth on the convention floor.
And of course, there is also the show's panel on Saturday, July 21 at the Indigo Ballroom in the Hilton Bayfront from 4:00 p.m.-5:00 p.m..
Executive producer David A Goodman is slated to moderate the Q&A with panelists Seth MacFarlane, Adrianne Palicki, Penny Johnson Jerald and Scott Grimes, as well as fellow EPs Brannon Braga and Jon Cassar. We're also hearing there may be a first-look at the upcoming second season, so trek on over early, folks!
The Orville, Season 2 Premiere, December, Fox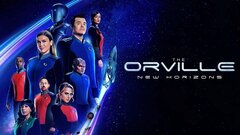 Powered by