'Humans' Finale, MLB All-Star Game, 'Talent' Narrows the Field
A critical checklist of notable Tuesday TV:
Humans (11/10c, AMC): It's not the most encouraging sign that the third season of this thoughtful, suspenseful sci-fi allegory is ending with back-to-back episodes airing outside of prime time. (Record and watch later, you won't be disappointed.) The embattled "Synths" — lifelike artificial intelligence creations living among us — have battled hostility and prejudice all season, and while leaders Max (Ivanno Jeremiah) and Mia (Gemma Chan) did their best to keep the peace and promote tolerance, events escalate to all-out war with the humans by the end of the two-parter. Max takes a calculated risk to win over a fanatic Synth by revealing that Day Zero (when the machines awakened to their latent consciousness) was engineered by a teen activating computer code. That teen, Mattie (Lucy Carless), reveals her secret, even as her beloved Leo (Colin Morgan) heads into danger at the Railyard, where the Syths have segregated themselves, though apparently not for much longer.
See Also
'It's like being prime minister in the midst of a war,' he explains about the penultimate episode.
MLB All-Star Game (8/7c, Fox): As the baseball season takes a brief pause, MVPs from the AL and NL gather for the 89th faceoff at Washington, D.C.'s Nationals Park. Among the top vote-getters swinging for victory: Houston Astros' Jose Altuve and Boston Red Sox's Mookie Betts representing the AL, and Atlanta Braves' Freddie Freeman and Nationals' hometown favorite Bryce Harper for the NL.
See Also
The MLB All-Star break heads to Washington, D.C., July 16-17.
America's Got Talent (8/7c, NBC): The hit summer series begins the process of narrowing the large field of novelty, dance and musical acts with the first week of "Judge Cuts," as Simon Cowell, Mel B, Heidi Klum and Howie Mandel make some painful choices. There's still quite a bit of winnowing to go, because the live shows don't begin until Aug. 14.
See Also
A number of familiar faces have dropped in on music competitions through the years.
Inside Tuesday TV: Lost's Henry Ian Cusick (aka Marcus Kane) directs The CW's The 100 (8/7c), in which Monty (Chris Larkin) hopes to show Wonkru an alternative to war — because that approach has worked so well before on this brutal series… Plenty of conflict, as usual, on TNT's Animal Kingdom (9/8c) as Smurf (Ellen Barkin) learns what J (Finn Cole) has been hiding from her while she was in prison, and Billy (Denis Leary) clashes with the equally volatile Pope (Shawn Hatosy)… It's Liza (Sutton Foster) once again to the rescue on TV Land's Younger (10/9c), when Charles (Peter Hermann) enlists her help after running afoul of a rock-star author on Shelter Island… OWN's Love Is … more complicated than usual (10/9c), as Nuri (Michele Weaver) goes on a ski trip with Keith (Tosin Morohunfola), and then has a fight with Yasir (Will Catlett) upon her return to L.A.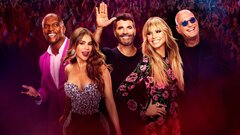 Powered by
Humans
where to stream
Powered by