'Stranger Things' Season 3 Hints at Summer 2019 Release With New Teaser (VIDEO)
Netflix is throwing it back once more, as Stranger Things just released a new teaser for Season 3.
To call it a teaser may be a stretch — it really plays out like an ad for a new mall — but it does feature a familiar face as well as a new one in this video advertising a "new" state-of-the-art complex called Starcourt Mall.
See Also
With recent filming spoilers and casting news, it's never too early to start speculating!
Hawkins, Indiana, is "taking another step into the future," as they embrace the new location featuring some stores that are still popular in today's malls, as well as some oldies like Waldenbooks and Sam Goody.
But it's all about Starcourt's food court, where fans of Stranger Things will surely want to learn more about Scoops Ahoy Ice Cream Parlor.
Scoops Ahoy appears to be Steve Harrington's (Joe Keery) latest place of employment, as he's introduced in the video alongside Maya Hawke's new character, Robin. The duo greet viewers with a welcoming phrase fitting for the location: "Ahoy," they say.
See Also
Plus, get a look at the new cast members.
For a look at the new teaser, watch the full video below.
While this clip is certainly exciting, it's the final title card at the end that should have fans marking their calendars, as the narrator reveals Starcourt Mall is coming next summer. Since Stranger Things is currently in the middle of filming its third season, a 2019 release date would be no surprise.
As previously reported, Season 3 is set to take place in the summer as opposed to the usual fall setting, so a summer setting is definitely appropriate. The teaser gives offers plenty of information for fans to think about until then, and hopefully some more info is on the way.
See Also
The actors join previously-announced new cast member Maya Hawke.
Until then, stay tuned, and prepare to binge next year, when Stranger Things returns.
Stranger Things, Seasons 1 & 2 streaming now, Netflix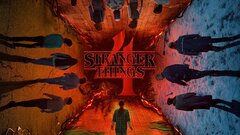 Powered by