'Stranger Things' Takes Fans Behind the Scenes of Season 3 With Production Teaser (VIDEO)
Things are getting strange, just the way fans like it, as Netflix's crown jewel Stranger Things begins production on Season 3.
The series, which premiered its second season back in October of 2017, is back to work with new scripts, old faces and some — ahem — strangers. So far, Season 3 has yielded three major casting announcements as the show adds Maya Hawke, Jake Busey, and Cary Elwes to the crew.
In a new behind-the-scenes teaser for Season 3, fans get an up-close look at the production's table read, which, according to a screen card, took place on April 20.
While this is an exciting share from the show's crew, it doesn't hide the fact that production is beginning over a year after production took place on Season 2. So what does this mean? It's very likely fans won't return to the upside down until 2019, potentially.
But even with that said, the promised return of the fan-favorite cast is more than enough to console viewers. The screen cards read, when put together, "On April 20, 2018, old friends, and a few strangers came together to start a new adventure."
The epic statement was then overshadowed by scene-stealer Priah Ferguson.
The actress, who plays Lucas's (Caleb McLaughlin) sassy sister Erica, turns to the camera and says, "Get out of here, nerds!" Classic Erica.
Also featured in the teaser are fist bumps, slow motion walking, and page flipping. Oh, and a little taste of the Upside Down, as well. Check it out for yourself in the clip below.
Stranger Things, Seasons 1 & 2 streaming now, Netflix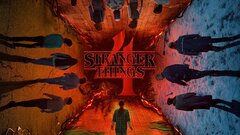 Powered by