'Stranger Things' Gets More Nostalgic and Adds Cary Elwes & Jake Busey for Season 3
It looks like The Princess Bride's Wesley is following in his Princess Buttercup's Netflix footsteps.
Cary Elwes is joining former co-star Robin Wright (House of Cards) on the streaming network for role in Stranger Things Season 3. Netflix made the announcement Wednesday, that Elwes and Jake Busey (Ray Donovan) — son of actor Gary Busey — will be heading to Hawkins next.
The casting news aligns with the show's affinity for all things '80s, as Elwes was a heartthrob of the era, and Busey's father was also iconic in the decade for his villainous roles in Lethal Weapon and more. Elwes and Busey are the second round of cast announcements, after the previously-announced Maya Hawke.
For now their roles remain vague but there's enough to imagine them fitting into the well-established landscape of the show. Described as a "handsome, slick, and sleazy" politician, Elwes will play Mayor Kline. The character sounds like trouble if you ask us.
Meanwhile Busey is taking on the role of reporter as a journalist who works for The Hawkins Post that goes by the name of Bruce. The character supposedly has "questionable morals," but it isn't clear whether that will be good or bad for our beloved Stranger Things gang. With his family history in mind, it wouldn't be shocking to see him take on a villain role.
Other nostalgic nods the show has made in the past include casting Winona Ryder, best known for her '80s roles in movies like Beetlejuice and Heathers, as well as Sean Astin of The Goonies.
Plus, you have Mad About You's Paul Reiser, who could likely reprise his role as Dr. Sam Owens on the show.
As production gets underway for Season 3, hopefully more casting news is on the horizon. Until then, fans can binge to their hearts' content.
Stranger Things, Streaming now, Netflix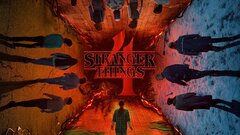 Powered by