Which Character From Amazon's 'The Expanse' Are You? (QUIZ)
Revived from the icy, vast void of cancellation by fans who flew a banner over Amazon's headquarters and the company's subsequent decision to renew it for a fourth season, Syfy's — now Amazon's — The Expanse has been in both headlines and sci-fi devotees' hearts this summer.
The stalwart crew of the Rocinante have battled a mysterious bio-weapon, human/protomolecule hybrids, a deadly portal from another galaxy, and sometimes even themselves, but the core of their connection remains strong enough to bring them back to each other — and to keep fans hungry for more (and for Alex's lasagna).
See Also
The Syfy series is making the jump to streaming on Amazon.
If you've ever wondered if you're a humanistic leader like James Holden, an inventive engineer like Naomi Ngata, a mechanically-minded protector like Amos Burton or a quick-witted pilot like Alex Kamal, take our quiz below and find out!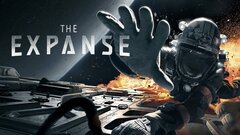 Powered by