Roush Review: 'American Woman' Is as Generic as Its Title
Things get really real for Bonnie (Alicia Silverstone), a pampered Real Housewife of Beverly Hills circa 1975, when she dumps her cheating husband (James Tupper) and has to fend for herself and her two daughters in a world of crass chauvinism.
If only anything in American Woman felt real, or even engaging. As generic as its title, this glossy wallow in female buddy-comedy clichés is about as authentic as the fibers in her louse of a husband's hilariously loud jackets.
And if you can't instantly spot the sexual orientation of friend Kathleen's (Mena Suvari) dishy casting-agent beau (Cheyenne Jackson), you haven't watched enough Bravo. Better to look up 1978's An Unmarried Woman with Jill Clayburgh, which feels fresher even four decades later.
American Woman, Thursdays, 10/9c, Paramount Network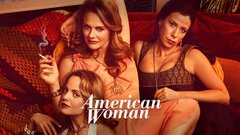 Powered by