Kyle Richards Dishes on the 'RHOBH' Reunion, 'American Woman' and That Awkward Bunny Moment
Erika Girardi's Pantygate. Kim Richard's Rabbitgate. Rinnamnesia. This season of The Real Housewives of Beverly Hills had some bonkers moments for sure, all of which have been hashed out over the three-part reunion (Lord, have mercy on Andy Cohen's sanity).
Tuesday night, the final installment airs and we still have so much drama to soak in as the ladies talk Xanax baggies, birth-parent searches and the "soap twins" situation from game night. So instead of waiting for the episode, we rang up original cast member Kyle Richards during her trip to Italy's Lake Como to get some scoop on how things shake out, who she'd like to hang with more and what's going on with American Woman, her semi-autobiographical sitcom over at TV Land.
Thanks for taking time out from your trip! This feels like the first reunion that you got to go into not on the firing line.
It was probably the easier reunion for me, in the sense that I didn't think I was gonna be attacked in any way, which I can't always say obviously. [Laughs]
In the time between wrapping the season and shooting the reunion, had you seen any of the other women?
Yeah. I've seen Lisa Vanderpump, who else? I know I've spoken to almost everyone. I've really only seen Lisa and Kim.
Can we please talk about your facial expressions this season? They were amazing.
[Laughs] I obviously don't have a good poker face! For some reason, there's a lot more focus on my facial expressions this year. Although, I've always been expressive type of person, what can I say?
How would you say this reunion went, as far as what we've seen so far and what comes up? We've seen pretty much all the Erika's sections, the PK confrontation…
Because I've been traveling, I haven't seen exactly what happened. I've seen things on the internet with the stuff between Kim and Lisa Rinna. Did that already happen?
The stuffed rabbit? Oh yeah…
That was the most awkward I've ever, ever felt in any Housewives moment. It was so uncomfortable. I'm actually surprised they used my reactions because I was completely useless. All I did was bite my finger and look down at the ground because I was so uncomfortable! [Laughs]
Now that she's not a regular on the show anymore, how is your relationship with Kim?
It's better than it's been in a very long time. When Kim is good and in a good place, we're in a really good place. It seems to go hand-in-hand. She is really happy and she has a lot of positive things going on in her life right now.Thank god.
Has all of this helped you develop boundaries and see what's her stuff and your stuff?
I think it was hard navigating through our relationship and family issues on television. Of course, I like having Kim on the show because it's a different dynamic, it's the most authentic of the relationships because we're blood. There's always that and I miss that, but I've grown and I've learned to detach a lot in this experience of doing the show.
How would you rate this season overall?
That is hard for me to judge because there's always the audience perspective and then our perspective. Whenever it's a difficult season and we all have hard times, obviously the audience thinks that's a great season. [Laughs] But I know the audience from how they react on Twitter, they absolutely loved this season. From their perspective, it's great. From ours, I felt even though there were difficult times for some of the other cast members, in spite of the problems between Kim and Lisa Rinna and all that stuff, I actually had a lot of fun this season. People ask me why I keep doing the show. It's because we do have a lot of fun…otherwise I could never keep doing this show. Our traveling, our girls nights, our parties, I had a lot of fun in spite of all that other stuff this season.
So which Housewife would you like to actually film more with?
I love Vanderpump; I love Erika. But they rarely show me with Eileen [Davidson] and I adore her. Whenever we're together we laugh. We always have fun together.
But then she goes and offers Erika a role on The Young and the Restless when you're the one who is the actress!
[Laughs] True, but I'm producing now, so that's okay.
That's right! How's that going?
Oh my gosh, it's amazing. I feel so guilty being away on this trip, but the Real Housewives actually brought me to Europe to do press for the show and I'm here looking at emails, choosing music for the show, going over casting sessions, because I left right in the middle casting for some of the upcoming episodes. So I feel guilty, like I left another child at home, but as soon as I get back to LA, I'll be on the set of American Woman, because we start shooting on my mom's actual birthday, which is kind of ironic.
How is it watching the younger you living all this stuff out again?
It's crazy, but you know, it's inspired by, not "based on." We have an amazing writer, John Riggi, who executive produced The Comeback and wrote for 30 Rock. So there'll be some things in there that will be familiar with my family and we'll recognize somethings that happened and other things are just created.
Nice. Now, a lot of times at the end of these Real Housewives reunions, it feels like these people should never speak to each other again. Where do you all stand after this one?
Maybe some of them have more animosity towards one another, but I actually care about every one of these women. They're all smart women; I have a lot of respect for all of them. They're dynamic, they're fun. I think they're all good people that sometimes make bad choices. We all do at times. [Laughs]
The Real Housewives of Beverly Hills Reunion, 8/7c, Bravo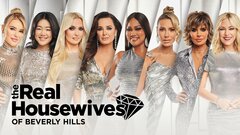 Powered by