Carlin Bates on Life, Love & 'Bringing Up Bates'
In the May 31 supersized episode of UP TV's Bringing Up Bates, fans will be treated to extra footage from Tori and Bobby's romantic winter wonderland wedding.
While Tori and Bobby enjoy life as newly pregnant newlyweds, Carlin, Tori's maid of honor, took TV Insider inside her sister's big day, opened up about her own wedding dreams, and shared why she loves reliving he family's big moments on Bringing Up Bates. "There's lots of love and lots of laughs," she says.
We also interviewed shy beauty Josie Bates, but we're saving her sweet sentiments until next week's episode, and you're not going to want to miss when her life takes center stage and her romance with Kelton crosses a major bridge — literally.
Hi, Carlin. First off — baby news!!! How did Tori and Bobby share with you that they are expecting?
Carlin Bates: Tori is not one for keeping secrets. So, when she's excited about something, she just lets the world know. So, it's kind of funny.
I think I just asked her randomly if she was pregnant. And, she looked at me and she didn't say anything. And, then, she was like, "Uh, yes…" And, then, she was like, "You gotta help me figure out a way to tell the family." Then Erin finds out. So, it's me and Erin and we're like, "We're gonna go on Pinterest and we're gonna find something super fun for her to tell the whole family when we all get together."
I find out one other person knew, then another. So, by the time it came to the big family announcement at my sister-in-law Whitney's house, everybody kinda knew. There was like one or two people that didn't know. And, everybody else was trying to fake it for them. It was hilarious. It was so much fun, though. They are so, so excited. I'm so excited to see their journey, too.
Let's talk about the song that Bobby wrote for the wedding. It is a beautiful song and a wonderful gift to give to Tori. What did you think of that moment?
Bobby had actually come to me a few weeks before the wedding and he said he was gonna sing a song. Tori thought was that he was going to sing a cover of something else, but he was like, "I'm actually gonna surprise her and write a song for her." He has a minor in music, so he's super, super talented. But when he sang the song for me, I was literally in shock, because it was so amazing.
When he sang it at the ceremony to Tori, I looked around, and I don't know if there was a dry eye in the whole building, because it really was their love story. You could tell how much effort he put into it. Tori was trying not to cry, but I think it was a highlight for her on their wedding day. She talks about all the time how special it made her feel — very treasured.
Tori and Bobby's wedding happened in December, and through the show, you're reliving it months later. What is it like to see these events from a new perspective?
I think you definitely feel the same excitement again. It's fun to go back and relive it and live back on the memories and see how it all came out. Because you forget about little details.
So when your family and friends get married, are you snagging ideas?
Oh, my goodness, totally! I feel like when my boyfriend and I started dating — and I think it's the same for Josie — that's when we downloaded Pinterest. We're, like, pinning stuff left and right. It's even funny, too, because I was looking at Josie's Pinterest yesterday and we have so many of the same ideas!
Now when Tori got married and we saw her wedding plans, we're like, "Oh, we love this. We wanna take that idea from her. And, this… and that." It's definitely fun envisioning our futures and think about getting married and the big day of our weddings.
Your siblings' weddings have been completely unique, from the dresses, to the color scheme, to what the groomsmen wore. Does everyone make an effort to do something different, or are you just such unique personalities that it just happens that way?
I think it can go both ways. One, every person's very individual. They love their different styles and each of them dress differently. They have different ideas. Tori wanted the whole winter wedding, a Disney princess-type wedding. And my sister Alyssa, she had the bright fuchsia colors.
As my siblings went along, and they got their turn, they all came up with their different ideas of what their perfect wedding would be like. But, of course, they did want it to be a lot different than the last one because a lot of those can become looking more repetitive. So, with each one, they kinda picked a new theme.
With 19 kids, how hard will wedding planning be for the younger kids?
Last week, we were all talking about weddings and my little sisters were like, "We are already booking our colors, so nobody can take them since there are so many girls." They all were already imagining their color schemes, it was so cute.
When you watch Bringing Up Bates, you see parts of your siblings' lives that you didn't witness the first time. Why is that fun for you?
When we were younger we did a lot more together. We traveled places together. But, now that we're older and a lot of us are in college or have jobs or families or a million other things going on, it is kinda cool to watch the show and see moments that you miss.
I think there have been many times I was watching and just the rough cuts or something and be shocked. "Oh, you did this? I had no clue about that!" It's cool 'cause we keep up with our family sometimes that way, by watching the show. It's a neat way to stay involved with each other.
And my parents have said a million times — even in Evan and my relationship — our future kids are gonna be able to experience all that we went through and be a part of that, too. They'll get to see their parents, or their siblings, or their cousins when they were younger and get to know them in a new way.
I think that's kinda neat that those memories will always be there. It's almost like when you are watching the show, you feel like you are a part of it again and you're reliving everything that you've been through in life's journey.
When you watch Bringing Up Bates, what surprises you?
I think one of the funniest things is watching the show together. We film together, but we also have weeks of interviews where we're just on a couch, and we're not all there.
And, the interviews with the younger kids crack me up. We tell our producer, "You should just have a whole show of just the little guys because they are a comedy act." There have been so many times they've said little things on the interviews and it's either super embarrassing or you're like, "Mom, how'd you let that go on there?!?"
But most of the time it's something that we all just sit around and laugh about. I think that's kind of crazy when you do watch it because it's kind of neat to see the behind the scenes of your sibling's lives and what they're really thinking.
I think, honestly, one of my favorite parts of the show is watching the little boys in their interviews, because they are hilarious. It's so sweet, that as a whole family and a team, the little guys wanna be a part of it and I love that. They get so excited when we're excited.
And they are always listening…
Oh, my goodness, yes! OK, so we're like, sitting at Tori and Bobby's new apartment. We're kinda decorating it and everything, and setting it up. One of the kids, it was Callie, said that I was planning on getting married. And Josie started saying, "Oh, yes, it's all Carlin."
I'm just sitting there thinking, "Josie's the one that's, like, way ahead of me." And we were laughing when I was watching the rough-cut of the episode. To hear Callie's side of it, and her saying, "Oh, I heard you over talking to Evan." You forget that you have so many younger siblings and they all have a million ears.
So what's next for the Bates family?
I know there's a lot of upcoming things happening in the Bates family, now that there's so many of us in so many different places in life — there are babies, there are weddings, there are engagements. I can't even keep up and I'm a family member!
But I'm excited about all of it, and that people that can come along and watch our journey and be a part of our lives. We love that not only we get to share it together, but the world gets to be a part of it and be alongside us for the different roads that our journey leads us. So, we're so grateful for all of the support. Our friends, our family, fans and all the encouragement.
Next week, TVInsider presents our exclusive interview with Josie Bates ahead of a special episode of Bringing Up Bates where her romance with Kelton takes a big step forward. "I am super excited for everyone to get to know Kelton and to fall in love with him like I have," Josie teases.
Bringing Up Bates "SUPERSIZED: Tori's Winter Wonderland Wedding," Thursday, May 31, 9/8c, UP TV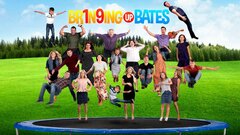 Powered by