'$100,000 Pyramid' & 'To Tell the Truth': Michael Strahan & Anthony Anderson Battle for Best Game Show Host
Game on!
June 10, ABC brings back its "Sunday Fun & Games" programming block: three hours of rebooted classic shows, kicking off at 8/7c with Celebrity Family Feud.
In the spirit of friendly competition, we asked Michael Strahan and Anthony Anderson — the hosts of The $100,000 Pyramid and To Tell the Truth, respectively — to assess each other's skills as emcees.
Before we get into any smack talk: You're real-life pals, right?
Anderson: We first met at the [2003] Super Bowl in San Diego. I looked at Michael and screamed, "Dad?!" You know, because we look similar and both have gaps in our [teeth]. He said, "Son!" and hugged me. From that moment on, we've been pretty cool.
Strahan: I remember that! Anthony is always up for having fun. He works harder than I do, though. I've been on [Anderson's sitcom] black-ish, and that man puts in 18 hours for every scene! I was like, "Dude, is this your day every week? I'll stick to my job!" [Strahan also co-anchors Good Morning America.]
Surprisingly, you both ended up with game show gigs. How would you each rate your colleague?
Anderson: It's no secret that Michael is a horrible host. What makes $100,000 Pyramid work is really the game and the guests. Michael is there to be a traffic cop.
Strahan: I don't disagree! I let it run itself. Anthony's come on the show before, and he's doing it again this season. He's the greatest guest. He's not very good at the game, but he's funny. As a host? He's… aight. But if his momma [Doris Hancox, To Tell the Truth's scorekeeper] weren't there too, carrying everything just like she always has…
Anderson: I agree 100 percent. And I no longer have to write my mother a check — now the network does it for me!
Strahan: In all seriousness, Anthony's amazing. He owns that stage. No matter what, he can make you laugh, and that's a skill very few people have.
Anderson: And what I'd like to say about Michael is that, coming from a sports background, he understands the concept of teamwork. He knows when to step in and when to step out in order for everyone to cross that goal line.
What nice compliments!
Strahan: Anthony, did you get my payment? 'Cause I got yours!
The $100,000 Pyramid, Season Premiere, Sunday, June 10, 9/8c, ABC
To Tell the Truth, Season Premiere, Sunday, June 10, 10/9c, ABC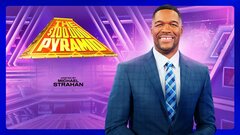 Powered by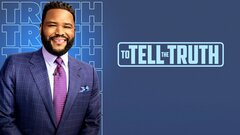 Powered by