Michael Strahan on 'The $100,000 Pyramid': 'It's Very Addictive'
Let the games begin! ABC has gone all in with Sunday Fun & Games, a three-hour block of game shows that includes survey-driven Celebrity Family Feud, word-association challenge The $100,000 Pyramid and star-studded fill-in-the-blank competition Match Game. "Game shows are having this big primetime comeback because you can sit with your kids and laugh with each other," says Michael Strahan, who hosts the Pyramid reboot. "It's safe, it's fun and it's enjoyable."
Why is now the right time to bring back Pyramid?
What's old is new again! It's such a perfect format for a show, and it's so easy to pick up on that everybody can relate to it. People love to see celebrities and contestants become a team where they have to work together and not just for themselves. Once you start watching it, it's very addictive.
RELATED: Michael Strahan Exits Live! for Good Morning America
Which celebrities really stepped up?
If you want to see great game play, it's Rosie O'Donnell and Kathy Najimy. Kathy was on the Pyramid as a contestant years ago and won money—she said it paid her rent for a year. Martha Stewart and Snoop Dogg, what a combination. They did the Justin Bieber roast last year and we decided they were so great on that, why wouldn't they be great together here? They proved it. Mario Batali was the most surprising because he is so smart and calm. He was like the surgeon of Pyramid.
Did you look to old Dick Clark episodes of Pyramid for hosting tips?
I watched him and he's so great at it; I don't know if you can copy him. I watched more to see the tone of the show. Just like with everything, you've just got to be yourself. When I took over for Regis Philbin at Live!, he was a very iconic figure. Here's somebody who built that show. Now I think to myself,  "Thank goodness I didn't kill the show that Regis built!" But at the time, I went in and said, "Hey, have fun with it, enjoy it, be in the moment."
Did you change any aspect of the show to make it more contemporary?
For a lot of people, it used to be the $25,000 Pyramid, so obviously inflation has pumped it up! [Laughs] But we didn't want to take away from the original because it was so good.
RELATED: Who Should be Kelly Ripa's New Live! Co-Host?
For a guy who began his career as a football player, did you ever imagine your path would lead to a game show?
Absolutely not. I didn't know I could play football! [Laughs] In my mind, I was very unlikely to be an athlete, a daytime talk-show host, do Fox NFL Sunday or be an anchor on Good Morning America. But you're not limited on how many things you can do. It's all about preparation, working really hard, believing in yourself and having people around you who believe in you. I'm fortunate enough to have all those things.
The $100,000 Pyramid, Series Premiere, Sunday, June 26, 9/8c, ABC.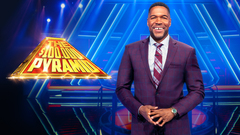 Powered by