Jenna Fischer's 'Splitting Up Together' Blog: Things Get Hot in the Season Finale!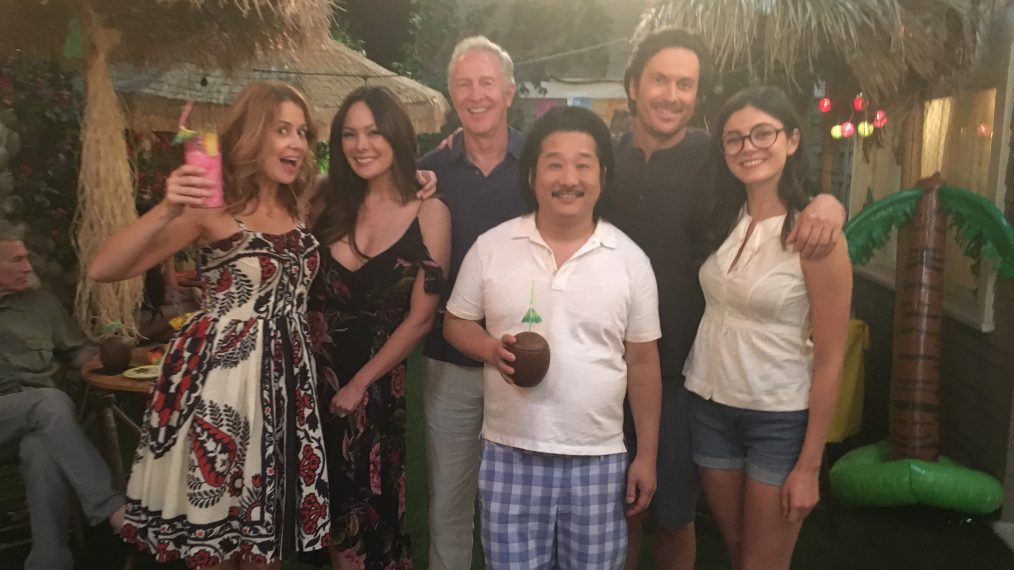 [This is the weekly post-mortem column for ABC's new comedy, Splitting Up Together, courtesy of star Jenna Fischer, who plays Lena. Watch a new episode every Tuesday and then come to TV Insider to read Jenna's behind-the-scenes insights in her own words! SPOILER ALERT: Read ahead only after watching the first season finale, "Heat Wave."]
AHHHHHHHH!!!!! Spoiler Alert!
What did you guys think?! How do you feel about Lena and Martin (Oliver Hudson) hooking up?! What will it mean for next season!? Are they really ready to reconcile?
Okay, let me back up. The episode starts with Lena and Martin loading their kids onto a bus for summer camp in what might be my favorite scene of the entire series. When my husband, Lee, saw this scene, he said, "It's like they came over to our house and filmed you packing for a real trip." It's true. (There is a good chance I would pack a teakettle for a camping trip.)
Oliver said he's had these exact same conversations with his wife, too. I've never felt more at home in a scene. If you want to know what I'm like in real life, this scene says it all!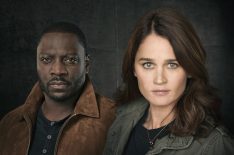 See Also
What are the new shows will you see on ABC later this year? We've got the full list by day.
After the kids leave, there is a massive heat wave and no AC in the garage. Martin generously invites Lena to stay in the main house, in Mae's room, until the heat breaks. And, despite their split, Lena and Martin decide to throw their annual summertime piña colada party.
It's wonderfully dorky. Did you notice all of the decorations? Insane! (It is my belief that if Lena and Martin sold off some of their party décor they could easily afford to live in separate places.)
The party was an especially fun scene to shoot because it involved almost the entire adult cast…which is a rare thing. We all had to learn "The Piña Colada Song" and sing it at the top of our lungs like a bunch of nerds for several hours. I remember being on set and thinking "This is my JOB. I get paid to do this!" It's so surreal.
This was also a really great episode for Monica [Barbaro], who plays Martin's girlfriend Lisa Apple. She is so incredible in her drunken dance scene and later in the scene where she confronts Martin.
The end of the show hints at a pretty big curveball that suggests she might be sticking around longer than we expect. I sure hope so. One, because I love working with Monica and also because we STILL don't know if Lisa Apple's glasses are real or fake!! For me, that's the real Season 1 cliffhanger!
Side note: I really loved the wardrobe choices for this episode. I don't know if you noticed, but Lena and Martin slowly show more skin as the episode goes on. A symbolic stripping of their defenses.
Finally, some scoop on the love scene: It isn't easy to find new, funny ways to film a love scene on TV, but I feel like we managed to find one in our inclusion of Josh the turtle.
The choice to hold Josh while we make out wasn't in the script. It sort of happened organically while we rehearsed. The script simply said that Martin runs in with the turtle and passionately explains that he wants to be back with Lena. And then Martin and Lena start kissing. It wasn't until that moment we realized "What do we do with Josh?"
It didn't make sense for Martin to break away and put the turtle back in its cage before kissing Lena, so our director said, "Let's just try one and see what you naturally do with Josh." So we did! And that is how Josh wound up in our love scene!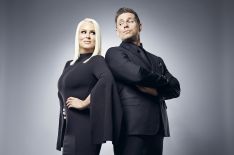 See Also
Plus, find out which of your other favorite shows are coming back next season.
Thank you everyone for supporting our first season of Splitting Up Together. The cast, crew, writers, and producers are so excited to get started on Season 2. I wish I could tell you all of the things we have planned but that would ruin the fun. Trust me, it's pretty awesome stuff! Enjoy your summer! See you this fall!
[And everyone at TVInsider.com wants to thank Jenna Fischer for these entertaining, informative and all around awesome post-mortem blogs this season. We cannot wait for Season 2!]