'Splitting Up Together' First Look: Ali Larter Debuts as Martin's New Love Interest (PHOTOS)
New romance is in the air over at ABC's sitcom, Splitting Up Together. But, of course, there may be a point of contention.
Martin (Oliver Hudson) begins dating a divorcee, Paige Turner (recurring guest star Ali Larter), who works in his building but there's a bit of a snag when she doesn't quite understand the living arrangement he has with ex-wife Lena (Jenna Fischer) — in which they trade weeks living in the house and living in the apartment attached to the garage.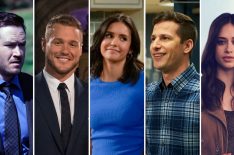 See Also
'The Bachelor' returns, while 'The Passage,' 'Schooled, and 'Fam' make their debuts.
Will it get in the way of this budding romance? We shall see (but Larter is sticking around for at least a few episodes so chances it won't be a huge obstacle). Also, with the construction on the house nearing completion, Lena still feels like there's work to be done while construction boss Vlad (Costa Ronin) asks her to help him with a client who's as difficult as she is!
Besides the photo above, here's another exclusive shot of Larter as Paige Turner gets cozy with Hudson's Martin.
Splitting Up Together,Tuesdays, 9:30/8:30c, ABC