Jenna Fischer's First 'Splitting Up Together' Blog: Inside the Premiere
[This is the first weekly post-mortem column for ABC's new comedy, Splitting Up Together, courtesy of star Jenna Fischer. Watch a new episode every Tuesday and then come to TV Insider to read Jenna's behind-the-scenes insight in her own words! Spoiler Alert: Read ahead only after watching this week's episode.]
Hello TV Watchers! Thanks for tuning in to the first episode of Splitting Up Together. I hope you loved it and will keep joining us each week as we explore the conscious uncoupling of Lena and Martin. I volunteered to blog some post-show information here each week on TV Insider. I won't rehash the plot, but you may find some spoilers if you haven't watched the episode yet. You've been warned!
This first episode was an opportunity for us to lay down the premise of the show, introduce our characters, and give you a peek at what you can expect down the line. It was also a chance for the actors to get to know one another. Since actors have little to no control over the casting of their co-stars, you never really know what to expect! You cross your fingers and hope no one is nuts.
See Also
How adorable are the stars of the new ABC comedy? See for yourself!
Before we started filming, Oliver [Hudson] and I met with the three kids and we all rehearsed together, shared meals and goofed around. We hit it off right away. Within 10 minutes, Oliver was wrestling Sander on the floor and Olivia and I were sharing wry glances while Van giggled at the action. I can happily say we were an Instafamily. (Pardon me a moment, while I call my lawyer to trademark that term.)
Let me give you my first impression of my castmates:
Oliver Hudson (Martin): Handsome, Charming, A great Dad
Olivia Keville (Mae): Smart, Organized
Van Crosby (Mason): Sweet, Shy
Sander Thomas (Milo): Cutest thing ever
Lindsay Price (Camille): I want her to be my best friend in real life
Diane Farr (Maya): Wise
Bobby Lee (Arthur): Every word out of his mouth is funny, how does he do that?!
I asked them all to tell me what their first impressions were of me. They all said the same thing: Perfection. A few said "even more beautiful in person." Bobby actually said, "I had no idea skin could glow like that." (Just kidding. I didn't have time to ask them.)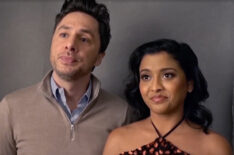 See Also
Find out what Braff and new on-screen wife Tiya Sircar had to say about their ABC sitcom.
Some of the craziest parts of this episode were the flashbacks showing Lena and Martin in love. While they zip across your screen in a 30-second narrated montage, they took an entire day to shoot. A day of location changes, wardrobe changes, and for me, hair extension changes! We filmed the montage on our last day of shooting. After a week of shooting scenes of us bickering, Oliver and I finally got to be nice to one another.
For our brief flash of a "love scene," I was very shy and nervous. Love scenes always make me nervous. I'd only known Oliver a week and now we had to thrash around in bed! I came to set in a robe, asked that only essential crew be present, no photos, no visitors—a "closed set," as it's called. Oliver walked in wearing only his underwear and did "erotic" dance moves between takes. Not shy. It was hilarious. And it made all my nerves go away.
Oliver and I are very much like our characters. I analyze everything, ask a ton of questions, and like to over-prepare for every situation. Oliver is loose and free-spirited. He's totally comfortable being spontaneous. And above all, he's kind. If you ladies aren't crushing on him yet, you will be, I promise!
Tune in next week to see what happens when Lena goes on her first post-divorce date! Meanwhile, Martin stays home to take care of the kids and Mae takes him to task for his gender bias.
Splitting Up Together, Tuesdays, 9:30/8:30c, ABC.