Why the 'Today' Royal Wedding Broadcast Is the One for Giddy Superfans
Let the countdown begin!
It's only a matter of hours until Prince Harry and Meghan Markle tie the knot in front of their closest friends, family…oh yeah, and millions of television viewers the world over. Naturally, an event of this magnitude qualifies as major news — which is why NBC's Today team is taking its show on the road, quite literally, to offer comprehensive on-the-ground coverage of all the wedding action in Windsor. Co-anchors Hoda Kotb and Savannah Guthrie share the "I do" details.
See Also
The celebration will be televised on all major news channels.
Kotb and Guthrie will be joined by their usual a.m. colleagues Megyn Kelly, Kathie Lee Gifford, Al Roker and Sheinelle Jones, among others. (They'll also tap insiders like Ken Wharfe, Princess Di's former bodyguard, for expert intel throughout the broadcast.) "We're famous for going big — what sets us apart is our unbridled, unapologetic enthusiasm and the sheer scale of the effort," says Guthrie.
Adds Kotb, "I think there's something cool and fun about the whole group going on location—especially when we're all there to celebrate, because usually when there's a full news team it's because something is going south." (For the record, Kotb says she's been prepping by binge-watching episodes of Netflix's drama The Crown: "It makes you realize that in this world, when a curtsy doesn't happen, it's an international incident!" she says.)
In keeping with British tradition, both anchors have vowed to don fascinators for the festivities. "We have to look like English roses!" says Guthrie. And per usual, the effervescence won't be reserved just for on-air banter. When asked if they'd be game for toasting the happy couple with a glass of "Meghan's Sparkle"—a commemorative ale being brewed locally for the occasion—Guthrie replies, "Obviously! You don't have to talk us into it."
That joyful approach should prove infectious, with a broadcast that's aiming to make fans feel as if they've scored their very own invitations. (NBC has even secured an exclusive filming perch beyond the fray of the other networks' cameras.) "People will get to watch a real love story unfold right in front of them and enjoy the fantasy," says Kotb. "We hope they have a nice 'wow' moment and leave smiling."
Today's six and a half hours of live coverage kick off at 4:30am/3:30c on NBC.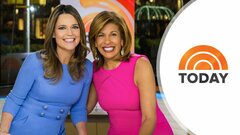 Today
where to stream
Powered by