Clayne Crawford's Friends & 'Lethal Weapon' Co-Stars Defend Him Amid Firing
Over the weekend, Lethal Weapon co-lead Clayne Crawford was officially fired from the Fox series and replaced with American Pie actor Seann William Scott. And while some of his former castmates have remained mum on the subject, others have jumped to his defense.
For his part, Crawford took the high road reacting to his exit, writing on social media, "To my cast and crew – CONGRATULATIONS on season 3! To the Fans – Thank you for the overwhelming support and love. Riggs was a dream role and the experience will live with me forever. My heart is full. Good Luck nxt season!!"
One of the most notable co-stars speaking out is actress Hilarie Burton, who played Martin Riggs' love interest DEA agent Karen Palmer over six episodes. The One Tree Hill alum was asked by a fan for any "kind words" she could share about her former co-star, and she quickly responded.
"I have a multitude of kind words about @ClayneCrawford! That guy greeted me on my very first day and has been a friend ever since," she wrote. "When I couldn't find childcare while I was working, he had his wife and kids take care of Gus. He shows up early. He knows his lines. He pushes to make every scene its best. I've watched him fight on the behalf of other people. And a good leader isn't afraid to be a bad guy."
— Hilarie Burton (@HilarieBurton) May 12, 2018
Crawford made note of her nice message, writing, "It's hard to stand up in this business, Thank You! #family #integrity."
It's hard to stand up in this business, Thank You! #family #integrity https://t.co/nzWrwOq2nR

— Clayne Crawford (@ClayneCrawford) May 12, 2018
Fellow Lethal Weapon star Kevin Rahm, who played Captain Avery, showed his support of the actor by retweeting Burton's sentiments. Additionally, Crawford's on-screen (almost) stepson Teo Briones (Ethan McFadden) gushed that "it was Clayne Crawford that made [Lethal Weapon] really special for me."
One of the best experiences I have had was doing Lethal Weapon. Everyone in the cast and crew as awesome, but it was @ClayneCrawford that made it really special for me. I cant wait until we can work together again! pic.twitter.com/JtQ4dUMqW9

— Teo Briones (@TheTeoBriones) May 13, 2018
Outside of the cast, a number of Crawford's former co-stars and fellow actors spoke out on Twitter. Bruce McKinnon, who played Crawford's father on Rectify, and The Librarians star Christian Kane were enthusiastic in their defense of the star.
Clayne is a passionate, talented & caring artist. One of my fondest memories in my entire acting career is playing his father in the Sundance series @Rectify for 4 seasons as well as becoming friends. I look forward to hopefully work with @ClayneCrawford again…if I get lucky. https://t.co/fIFcRmFdrh

— Bruce McKinnon (@Bruce_McKinnon) May 12, 2018
Did I just hear this right? U fired my boy @ClayneCrawford on Lethal Weapon. I'm lost, Busy doing a charity event w/ him n Bama 4 veterans.

— Christian Kane (@ChristianKane01) May 9, 2018
As for the network, Fox spoke out via Chairman and CEO Dana Walden about the recasting this morning, saying, "This was not our choice. Ultimately, our partners at Warner Brothers came to us about three weeks ago to tell us that they could not deliver Lethal Weapon as we've known it before [and] that there were some real challenges in the cast.
"They thought long and hard about it. I know that was not [Warner Brothers'] first choice but that ultimately these were the circumstances that they could offer us the show. We thought about it a lot and we talked about a lot of different names and ultimately when they came back with Seann [William Scott] and a fantastic showrunner (Matt Miller, who created the show) and a big TV star in Damon (Wayans) and a great cast and a storytelling engine that works and a fanbase that's very passionate about the show.
"I think we ultimately made the right choice and we are prepared to support it from a marketing point of view to educate viewers and fans of the show about a new dynamic but a good one and a lot of a show that people love that's still intact," she concluded.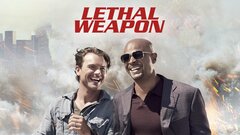 Powered by