'Lethal Weapon' Replaces Clayne Crawford With Seann William Scott for Season 3 — See Crawford's Response
Looks like Lethal Weapon will be back for a third season on Fox this fall — just not with Martin Riggs (Clayne Crawford).
After the co-lead was fired from the series last week, the network announced this weekend that the show had been renewed with a replacement for Crawford's character. The actor tapped? Seann William Scott, best known as Stifler from American Pie.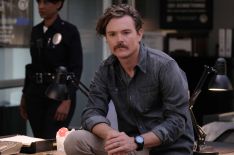 See Also
The actor spoke out on social media.
Though details are still being worked out, Scott has been confirmed to be playing a new character who ends up partnering with Murtaugh (Damon Wayans). That said, sources tell The Hollywood Reporter that Scott could play Riggs' brother, so we're still working with a Murtaugh-Riggs partnership.
"Seann is a fantastic addition to this already amazing cast," Fox Entertainment president Michael Thorn said Sunday before Monday's Upfront presentations. "Lethal Weapon is packed with action, drama and pure fun and we can't wait to see Damon and Seann together on screen. [Showrunner] Matt Miller, his incredible team and everyone at Warner Bros. have been tremendous partners, and we're thrilled to bring this show back for another season."
As for Crawford, he responded to the recasting on social media Sunday. "To my cast and crew – CONGRATULATIONS on season 3! To the Fans – Thank you for the overwhelming support and love. Riggs was a dream role and the experience will live with me forever. My heart is full. Good Luck nxt season!!" he captioned a sad-looking photo.