'Bull' EP Glenn Gordon Caron Breaks Down That Finale Cliffhanger & Teases Season 3
[Warning: The below contains MAJOR spoilers for the Season 2 finale of Bull, "Death Sentence."]
Are you still catching your breath after Bull's Season 2 finale? Us too!
The CBS crime series' sophomore season closed out with the show's titular lead, Dr. Jason Bull (Michael Weatherly), lying helplessly on the courthouse steps as he suffered what seemed to be a massive heart attack. And just moments after he'd saved mute client Elliot Miles (Frank De Julio) from being sent to death row for a crime he didn't commit!
See Also
From 'Brooklyn Nine-Nine' to 'The Big Bang Theory,' where should the former 'NCIS' star go next?
After a cliffhanger like that, plus some seriously unfinished business — Marissa (Geneva Carr) almost resigning, Bull's lingering feelings for ex-wife Izzy (Yara Martinez) — we can't wait to see what Season 3 has in store. Luckily, TV Insider spoke with showrunner Glenn Gordon Caron to answer our burning questions about what went down and what's to come. Read on for the scoop!
That cliffhanger was a doozy! Is it safe to say that Bull had a heart attack or is there still a chance it was something else, like a panic attack?
Glenn Gordon Caron: No, I think he had a heart attack. I think you're on fairly safe ground with that.
The show has already been renewed for a third season — congrats! When we return, will we pick back up in that moment or will there be a time jump?
There will be a time jump. Obviously, he's going to survive, and we're not going to encumber the audience with watching him recover from a heart attack. But we will pick it up about three months hence.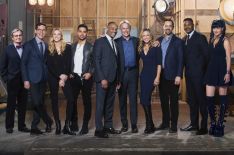 See Also
A look at possible Season 16 exits after Pauley Perrette's recent departure.
And I assume we'll see the repercussions of this health scare on Bull?
Yeah, I would think when you go through something as momentous as that, it has an enormous impact on your life and on your thinking and all of that. So I'd be curious to see how it changes him, if it changes him at all.
When the team was discussing the psychopath they were tracking down, they all seemed to recognize that he shared lot of traits with Bull — detached, superficially charming, believes he's more important than others. Why did you make that connection?
Well, I certainly don't think Bull is a psychopath. But I do think that brilliant people, men and women, sometimes bring baggage with them that sometimes makes them to work with and for. When you read about the people who have done the most to shape our culture and society and economy, it invariably, along with all that genius, comes certain deficits in other areas.
When Bull got Elliott Miles off, it seemed to change something in him as he finally showed appreciation for his team. What spurred that switch?
The last couple of days, there had been little hints that something was wrong physically. He had that moment when his arm fell asleep, going up the stairs of the courthouse he's labored in doing that, and then he looked white as a ghost. I think subliminally they were goodbyes.
To me, it made a weird sense. Like, 'I want everyone to know that I appreciate what they did. I want them to know that this is their victory.' I do think that there's a kind of prescience that people get in moments like that, that something bad might be about to happen.
Will we see him have a new lease on life more in Season 3?
It's hard to say how it will manifest itself. Yes, I would hope that it would have a positive impact and it would make him appreciate life more and make him be somewhat more sensitive to people. He's a very sensitive fellow and he means to be nice, but every so often he slips or he's a little myopic in his thinking.
Marissa initially tendered her resignation but ultimately ripped up the letter before Bull could see it. Why did she decide to stay?
My feeling is that in the scene when they were tracking down the psychopath, she was watching him deduce all of this — looking at the 180 pictures and boiling it down to one — and she's reminded of what an extraordinary man this is. She realizes, 'I don't want to give this up. It's how I got here.'
Bull is still dreaming about reuniting with his ex-wife Izzy. Is there even the slightest chance we could see a reconciliation between the two?
Any excuse for another musical number! [Laughs] Anything's possible, she's a wonderful character, wonderful actress. I love working with her, so why not? But I don't know anything, I'm not promising anything.
Any characters you want to dive into more next season?
I do feel like we've not really done a deep-dive on Danny [Jaime Lee Kirchner]. She's someone we'd really, really love to get to know better and explore more. Jaime's a wonderful actress. Part of my mission this year was to really give everybody a chance to get the light. I think we did it with everybody but Danny. [Jaime] and I have been communicating and trading ideas, so I do think this hopefully will be a very good season for her.
What else can you tease about next season?
Sort of more of the same, I know that sounds boring but I mean it in the best way. With Season 2, we spent more time deepening more of the characters — making them more specific, more interesting — and then exploring how their lives at work affect their lives away from work. I hope to do more of the same in Season 3, and at the same time, have the same provocative, interesting, twisty cases each week.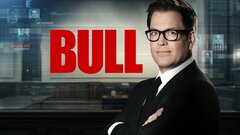 Bull
where to stream
Powered by