Who Will Be the Next to Leave 'NCIS'? A Look at Possible Season 16 Exits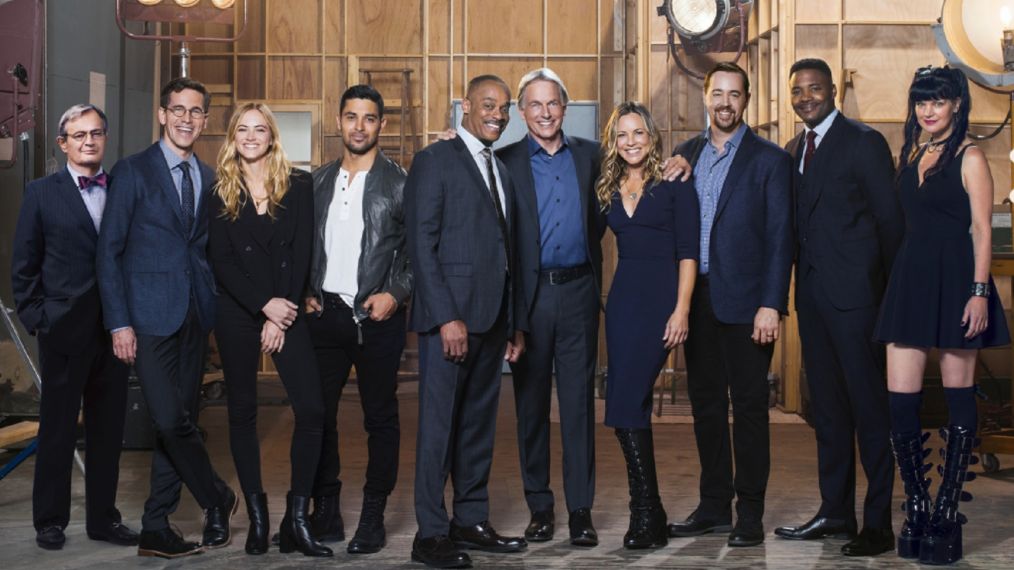 Kevin Lynch/CBS
Fans of CBS's hit series NCIS were left in tears over Pauley Perrette's Season 15 exit, and she's just the latest in a long line of stars who have come and gone, leaving many viewers wondering... who's next?
Nearly five years ago in 2013, fan favorite Cote de Pablo left the show when her character, Ziva David, returned to her native Israel. Though not an original cast member — de Pablo joined NCIS in 2005 — the character certainly made an impact during her time there. Fans were particularly fond of the relationship between her and Michael Weatherly's character, Tony DiNozzo.
The actress' exit rocked the show's fan base and it's been a bumpy ride ever since, as Michael Weatherly followed suit two years ago in May 2016. His character left to care for his daughter with Ziva, after de Pablo's character was said to have been killed in Israel. These smooth but sullen departures seem small in comparison to how Weatherly's fellow original cast member, Pauley Perrette, left the show.
Each of these characters received relatively hopeful storylines, and weren't killed off by the writers — de Pablo's character's death happened off-screen years after her exit from the show. Whereas some of the newer cast members have met untimely ends amid their exits from the popular procedural.
From 'Brooklyn Nine-Nine' to 'The Big Bang Theory,' where should the former 'NCIS' star go next?
For example, Duane Henry's Reeves was killed in the Season 15 finale when a mugger held him and Abby at gun point. Both characters were shot, but Henry's character left the show because he died, while Abby left to honor his character's memory.
So who will be next? There are a few potential options based on previous departures, but those aren't the only factors to take into consideration. You have to keep in mind the length of time these characters have been on the show and what predicaments their characters are currently in after the Season 15 finale.
Based on this history, the characters that could be in danger of leaving are: Rocky Carroll's Vance, David McCallum's Ducky, Mark Harmon's Gibbs, and Sean Murray's McGee. None of these actors have hinted at leaving the show anytime soon, but that's not to say they won't.
At the end of Season 15 viewers saw Vance being held hostage on a plane by a terrorist who goes by the name Nigel Hakim (Pej Vahdat) or "The Monster." It was a definite cliffhanger, and Vance's longevity wasn't guaranteed, but he made it through as he was saved in Season 16, but is there still a chance he could exit? It's hard to tell considering the show's penchant for toying with fans' emotions.
One character was left in jeopardy in the concluding cliffhanger.
Ducky, on the other hand, could very well exit stage left under the guise of retirement — Mallard is no spring chicken. Meanwhile, Gibbs and McGee don't seem to be going anywhere, thanks to their fan following and importance to the fabric of the show.
Out of the original cast, McCallum, Harmon, and Murray are the only remaining stars from the show's first season in 2003 — Weatherly and Perrette were the other members of that core cast. Since Season 16 has taken fans in different and unexpected directions with the welcoming of new full-time members like Kasie (Diona Reasonover) and more, the guessing game only grows larger.
In a recent fan question posed towards  TV Line about who could be leaving they said, "It may depend on what comes of this development: Sources tell me that midway through the season, the Secretary of Defense will be out for blood upon learning that Gibbs' team defied his wishes, breaking the law in the process. As a result, the D.C. team may land under the microscope, much as their Los Angeles- and New Orleans-based brethren have."
So who will live to see another day? Are your favorite characters living on borrowed time?
Let us know what you think in the comments below.
NCIS, Tuesdays, 8/7c, CBS
AlertMe