Lauren Cohan Will Return for Season 9 of 'The Walking Dead'
Maggie will live to see another day on The Walking Dead, as Lauren Cohan has just confirmed that she will in fact be back for Season 9 of the hit AMC series.
The actress has been making headlines for the last few months because of her supposedly unsettled contract for the ninth season. Cohan had reportedly been seeking a salary equal to that of her male costars Andrew Lincoln and Norman Reedus, both of whom are also series regulars.
See Also
The actress just signed on for a new ABC pilot.
Cohan's future on the show wasn't looking strong when she signed on for an ABC pilot called Whiskey Cavalier with Scandal's Scott Foley. Many fans took Cohan's new project as a sign that things weren't looking good for her returning to her Walking Dead role.
But while the actress was attending CinemaCon in Las Vegas to promote her film Mile 22 with Mark Wahlberg, Cohan revealed to Entertainment Weekly that she will be returning for Season 9.
See Also
'Pay the woman,' said the actor, who plays Ezekiel on AMC's hit.
"I'm going back," she said to EW. "There's a lot more Maggie story to tell."
Well, that's certainly an understatement, considering Maggie's final vow to make Rick (Lincoln) and Michonne (Danai Gurira) pay for allowing Negan (Jeffrey Dean Morgan) to live in the Season 8 finale.
"You know we're not allowed to tell you anything, but it's good," Cohan teased of her role in Season 9 to EW.
See Also
In the fight against wage inequality, these women are standing up for themselves.
While there was no official announcement about her Season 9 contract being approved, Cohan's promise is all the confirmation that fans need. And it won't be long before she's back into character — Season 9 reportedly begins filming next week.
As for Cohan's Whiskey Cavalier, its fate depends upon the network and when it decides to air the spy series.
The Walking Dead, Returns Fall 2018, AMC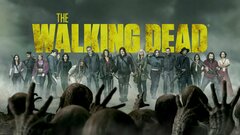 Powered by