Claire Foy of 'The Crown' & 6 More TV Women Who've Dealt With Unequal Pay
Women in Hollywood have been combating unequal pay with recent movements like Time's Up, and it seems almost weekly we get a new examples proving the need for such movements.
The Crown's Claire Foy is the latest in a list of TV actresses whose wage disparity with a male co-star—in this case, Matt Smith—became public knowledge. After playing Queen Elizabeth for two seasons of the hit Netflix series, showrunners revealed her pay gap and claimed they'd fix the issue moving forward.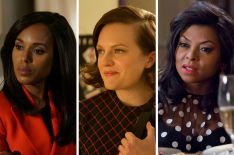 These ladies prove strength and independence knows no gender.
Foy's pay gap isn't the first time this has happened, and it likely won't be the last. Thankfully there are enough people in Hollywood who do believe in equal pay for men and women and outwardly advocate for it. Click through the gallery above see which TV actresses are fighting to be paid what they're worth.