'Westworld' Star Evan Rachel Wood & More TV Women Who've Dealt With Unequal Pay
Women in Hollywood have been combating unequal pay with recent movements like Time's Up, and it seems almost weekly we get a new examples proving the need for such movements.
Westworld's Evan Rachel Wood is the latest in a list of TV actresses whose wage disparity with male co-stars — in this case, Anthony Hopkins and Ed Harris — has become public knowledge. Luckily, HBO has since remedied this, as the actress revealed this week, "I think I'm just now to the point where I'm getting paid the same as my male co-stars."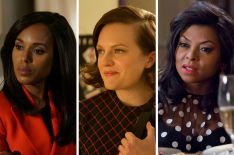 See Also
These ladies prove strength and independence knows no gender.
Wood's pay gap isn't the first time this has happened, and it likely won't be the last. Thankfully there are enough people in Hollywood who do believe in equal pay for men and women and outwardly advocate for it. Click through the gallery above see which TV actresses are fighting to be paid what they're worth.