Pico Alexander and Jon Rudnitsky Cast in Hulu's 'Catch-22'
UPDATE (5/4/2018):
Hulu announced eight new actors are joining the cast of the upcoming limited series, Catch-22.
They include: Daniel David Stewart (The Band's Visit), Austin Stowell (Battle of the Sexes), Rafi Gavron (Counterpart), Graham Patrick Martin (Major Crimes), Pico Alexander (A Most Violent Year), Jon Rudnitsky (Saturday Night Live), Gerran Howell (Young Dracula) and Lewis Pullman (Battle of the Sexes).

ORIGINAL:
George Clooney isn't at a point in his career where he gets replaced in a starring role very often, but Hulu revealed on Friday that the famed actor will no longer be featured as lead character Colonel Cathcart in the streaming service's upcoming six-part limited series, Catch-22.
Emmy-winning actor Kyle Chandler (Friday Night Lights, Bloodline) will now be playing Cathcart.
Of course, this has nothing to do with Clooney's acting ability — the multi-talented, Oscar-winning superstar will be an executive producer on, and direct (with Ellen Kuras) this adaptation of Joseph Heller's classic novel. But playing a lead role in addition to his other duties would likely be too time-intensive for even a talent like Clooney.
See Also
With big success after adapting Margaret Atwood's novel, 'The Handmaid's Tale,' Hulu is looking to another iconic book.
Clooney will still also be in front of the camera for Catch-22, though now, he'll be taking on the smaller role of Scheisskopf.
Scheisskopf is described in a Hulu release as "a training commander at a cadet school in California. Ambitious, humorless, inept, angry, sadistic — and above all else, obsessed with parades and winning parade tournaments — Scheisskopf makes the men's lives a living hell. Deep down he's just an angry idiot, so there's no real danger he'll ever be sent overseas. And then: he is sent overseas. As the Head of Operations for the entire Mediterranean Theater. And straight back into Yossarian's life."
Along with Chandler and Clooney, Hulu has previously announced that Catch-22 will also feature Christopher Abbott as Yossarian and Hugh Laurie as Major de Coverley.
Catch-22, Date TBD, Hulu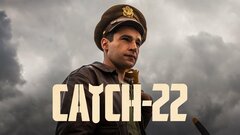 Powered by