Everything We Know About George Clooney's 'Catch-22' Series on Hulu
UPDATE (4/13/2018):
Kyle Chandler (Friday Night Lights, Bloodline) has joined the cast of the upcoming six-part limited series Catch-22 on Hulu, based upon the novel by the same name. He will play Colonel Cathcart.
George Clooney will now play Scheisskopf. "Scheisskopf is a training commander at cadet school in California. Ambitious, humorless, inept, angry, sadistic – and above all else, obsessed with parades and winning parade tournaments," according to a press release.
Clooney is also executive producing and directing.
UPDATE (4/3/2018):
Hugh Laurie (The Night Manager, Chance) is co-starring in the upcoming George Clooney directed Hulu series as Major de Coverley.
UPDATE (3/9/2018):
The Sinner star Christopher Abbott has landed the lead role as Yossarian in the upcoming Hulu series, Catch-22, which will co-star and be directed by George Clooney.
ORIGINAL:
George Clooney is heading back to television with a new six-part limited series based on Joseph Heller's iconic novel, Catch-22. After earlier reports of the project, Catch-22 was officially confirmed on Sunday during Hulu's day at the Television Critics Association 2018 winter press tour.
In the series, which will go into production this year, Clooney will portray Colonel Cathcart and the Academy Award-winning actor/writer/producer/director will also direct the series alongside his longtime Smokehouse Pictures partner, Grant Heslov. The project also comes from Paramount Television and Anonymous Content.
"Catch-22 is a rare story that has withstood the test of time, not only as a literary masterpiece, but as a story that still resonates in today's political and social conversation," said Hulu Chief Content Officer, Joel Stillerman. "These are exactly the types of stories we want to be programming at Hulu, and we couldn't be happier to partner with George Clooney, Paramount TV and this phenomenal group of creatives to bring one of the most well-known books of all time to viewers in a way that has never been seen before."
Set during World War II, Catch-22 follows Captain John Yossarian and his fellow airmen as they try to keep their sanity intact while participating in dangerous requirements that, if fulfilled, could lead to their return home. Published over fifty years ago in 1961, Catch-22 has continued to be regarded as one of the seminal novels of the twentieth century. 
Like The Handmaid's Tale and Hulu's upcoming The Looming Tower, Catch-22 joins the streaming network's prestigious slate of programming. Clooney, one of the most successful film actors/writers/directors, began his career in television, reaching superstar status when he was one of the stars of NBC's long-running medical drama, ER, from its premiere in 1994 until his departure in 1999.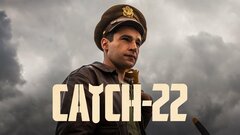 Powered by