'The Office' Alum Angela Kinsey Enrolls in 'A.P. Bio' (VIDEO)
A.P. Bio's Principal Durbin (Patton Oswalt) just can't get a break.
At work, he's either being abused by school-union reps, annoyed by assistant Helen (Paula Pell), or ignored by Harvard genius-turned-horrible teacher Jack Griffin (Glenn Howerton).
And at home, he's not even allowed to watch his favorite show. All because his never-before-seen wife doesn't like him getting "all riled up."
In this Thursday's episode, "Durbin Crashes," we finally meet the man's high-strung domestic other-half, Brenda, and fittingly, she is being played by Angela Kinsey.
The Office alum spent nine seasons making sure the staff of Dunder-Miflin didn't have any untoward fun as cat-loving Angela Martin, and it seems that Kinsey (who also killed it as one of the Hot Wives of Orlando) has been keeping up her studies in bringing everyone down.
In this exclusive clip, Brenda explains to Jack why Durbin—who is crashing at Griffin's after being kicked out of the house—has earned her wrath, and it all sounds just as crazy as her tiny sneezes.
As for the forbidden TV program that rubs Brenda the wrong way, well, you'll just need to tune in to see what it is. But we can say that if NBC decided to actually produce it, we'd totally watch!
A.P. Bio, Thursday, 8:30/7:30c, NBC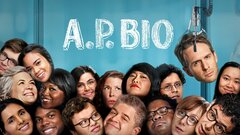 Powered by