'A.P. Bio': Glenn Howerton on How the Series Will Hint at Jack's Softer Side (VIDEO)
All right, everybody, let's go ahead and start to shut up.
Ah, the ever-loving greetings of A.P. Bio's Jack Griffin, decked out in sweatpants and sarcasm as he endeavors to not shape the young minds of his class.
On NBC's perfectly irreverent comedy, Glenn Howerton's character isn't so much a good teacher as he is a terrible role model who usually winds up reluctantly making the right choice. Could this guy actually have a gooey center underneath that hard candy shell?
"I think Jack has a really big heart," Howerton admitted when we sat down for a chat on the Celebrity Page. "He [just] doesn't want to show it, because he thinks it makes him weak." But it does make him funny.
Still, Howerton says that his disgraced Harvard philosophy genius is starting to soften around the edges…incrementally. "I like that the fans are going to be able to see, hopefully, me doing something a little bit different."
See what else Howerton had to tell us in the interview here:
A.P. Bio, Thursdays, 8:30/7:30c, NBC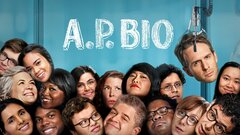 Powered by