WATCH: Penn Badgley Plays a Stalker in Lifetime's Series 'You' (VIDEO)
Have you ever wondered what a Gossip Girl–Pretty Little Liars crossover might look like? Well, look no further than Lifetime's newest series You, premiering in September and starring Penn Badgley, Elizabeth Lail and Shay Mitchell.
Described as a love story that blossoms between a bookstore employee and the beautiful writer he encounters, the series finds Badgley's Joe falling hard for Lail's Guinevere. In the opening scene, Guinevere falls into subway tracks as Joe looks on. He saves her from the incoming train, and, of course, the rest is history, right?
Well, Guinevere's friend Peach (Shay Mitchell) is suspicious of Joseph's role in her life, indirectly voicing her concern.
"Thank goodness for you," she says to Joe. "Being in Greenpoint of all places at the very right moment."
Suddenly, what seemed like a cute love story has turned dark, as Joe is seen wearing a baseball cap observing Guinevere and her friends. Then, in a separate scene, he's seen combing through her social media accounts and searching her location—talk about being a stalker.
We're also treated to a snippet of guest star John Stamos, who is set to appear in the show. But Joe isn't the only creep in this equation, as it appears that Peach is just as obsessive about Guinevere—she spies on her friend while she's bathing, and Joe isn't far behind…
Clearly, things are pretty crazy in the You-niverse, but things escalate to a whole new level when murder factors in. Essentially, You looks like every addictive Lifetime movie wrapped up into one exciting show.
Check out a preview here:
You also stars Luca Padovan and Zach Cherry alongside that star power-packed cast of Badgley and Shay. Catch it when it premieres this fall.
You, Series Premiere, Sunday, Sept. 9, 10/9c, Lifetime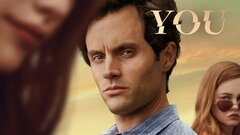 You
where to stream
Powered by