Roush Review: 'The Magicians' and 'Lucifer' Both Cast a Spell
The Magicians: Spellbinding Millennials
"Be warned. This adventure is no mere children's tale," says the narrator of a legendary kid-lit fantasy fable that comes to mysterious and possibly perilous life in The Magicians, Syfy's provocatively surreal adaptation of Lev Grossman's celebrated trilogy of novels. In fact, much of the allure of the books, and the series, comes from their reputation as a more adult twist on a Harry Potter-like coming of age in an alternate world of dangerous magic.
With projects like December's Childhood's End miniseries and The Expanse, Syfy has raised its level of ambition lately, and The Magicians could be its bid for a show as buzzworthy as sibling channel USA's Mr. Robot. Judging from the two-hour premiere and a subsequent episode, it's not there yet, but the source material is beyond promising, and the somewhat underproduced and over-hurried adaptation has potential if it could just slow down and focus. In that respect, the show is not unlike its undisciplined, immature protagonists, who know not what they conjure and often wind up in way over their heads.
For the uninitiated, who may have some trouble making sense of the show's early going, the primary setting is Brakebills University—think Hogwarts as a party college—attracting stoners and social misfits like neurotic, twitchy savant Quentin Coldwater (appealingly awkward Jason Ralph), a self-described "depressed super nerd." He's lured to this secret academy located in a "Bermuda Triangle of upstate New York," in part because of his fascination and connection to a supposedly fictional fantasy universe known as Fillory, which turns out to be unusually real and which begins to reveal its secrets to Quentin for reasons not instantly clear.
"There's no such thing as safe magic," advises aloof classmate Alice (Olivia Taylor Dudley, a Reese Witherspoon-like ingénue), who has her own agenda for being at Brakebills. As Quentin and his funky new posse of friends invite danger by dabbling in the dark arts without proper supervision, The Magicians begins to cast a sinister, intoxicating spell.
RELATED: Read All Roush Reviews of New Shows
Lucifer: The Devil Comes Out to Play Detective
These kids could learn a thing or two about self-possession from Fox's Lucifer. Damned if he isn't one charming devil. As played with dashing panache by Tom Ellis, the title antihero is the ultimate charismatic bad boy, playing hooky from Hades to cavort with hedonistic humans in Hollywood.
Lucifer Morningstar has definite star quality, and an amusing knack for seducing people to speak out loud their forbidden desires and uncomfortable truths with just one look—though heaven help you if you get on his bad side and he decides to scare the bejesus out of you with a flash of his fiery red orbs.
But here's the uncomfortable truth about Lucifer the series: It's just too damnably familiar, clipping the fallen angel's wings by trapping the poor lost soul in an ill-chosen purgatory of formulaic procedural crime-drama with a resemblance to Sleepy Hollow that probably is no coincidence. Fab British accent? Check. Disdain for modern civilization and its prosaic rules? Naturally. Partnered with a feisty, beautiful detective (likable Lauren German) who somehow resists his allure yet comes to enjoy his company and rely on his supernatural gifts? You bet.
Despite its depressingly derivative nature, Lucifer is initially great fun, especially in Monday's sleek pilot episode, as the thrill-seeking cad from way down under mocks and manipulates mortals, including a lusty shrink (Rachael Harris, funny as ever). But in successive episodes, as the contrivances become more strained—even fickle Lucifer is heard griping, "Call me when you've got a murder with a pulse"—the devil's not the only one who finds himself too easily bored.
The Magicians premieres Monday, Jan. 25, 9/8c, Syfy
Lucifer premieres Monday, Jan. 25, 9/8c, Fox
---
Questions? Ask Critic Matt Roush!
TV critic (and occasional TV therapist) Matt Roush answers viewer questions and concerns in his Ask Matt column each week. Wondering about plots, characters and twists on your fave shows? Submit your query to Matt via the form below: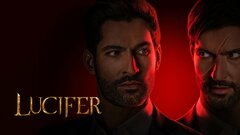 Lucifer
where to stream
Powered by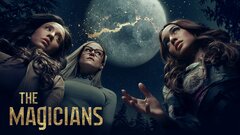 Powered by