The Roush Review: Don't Delete 'Mr. Robot' From Your DVR
Do not even think of deleting Mr. Robot from whatever devices you may be using to store the summer's most wildly original new series. In a season when there's barely time to watch all the cool stuff on the various platforms we now consider TV, I've been re-watching episodes of Robot—to ponder what I've just seen and also to savor the wondrous strangeness of an off-kilter cyber-thriller that feels like the offspring of William Gibson and Stanley Kubrick.
Trippy, creepy, kinky and surreally cinematic, this show vividly depicts the altered states of Elliot (a mesmerizing Rami Malek), a socially maladroit yet gifted hacker whose morphine habit makes him a most unreliable narrator. Each episode takes us further down his hallucinatory rabbit hole as he toils in a cybersecurity job he loathes while plotting to overthrow a too-big-to-fail conglomerate he calls "Evil Corp."—and when everyone, even the media, starts adopting that moniker, we don't know what or who to believe.
And that includes Elliot's cocky recruiter into the underground socioeconomic revolution, who's known as "Mr. Robot" (Christian Slater) and may or may not be real. "Are you a one or a zero?" Mr. Robot challenges the ambivalent vigilante Elliot, so inscrutable with his bug-eyed glare and whispery voice.
He's hardly a zero, though I can't say I've got this show's number quite yet. Confusion has rarely been so exhilarating. 
Rating: 4.5 stars
Mr. Robot, Wednesdays, 10/9c, USA Network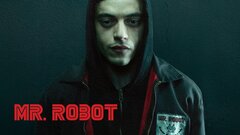 Powered by