Transforming TBS and TNT: Kevin Reilly on the Networks' New Strategy and 'Conan's Future
Kevin Reilly is giving himself three years to reinvent TBS and TNT. He joined the networks as chief creative officer in late 2014 and spent much of last year quietly making changes. Gone are most blue-sky procedurals like TNT's Rizzoli & Isles (its run ends this summer) and comedies like TBS's Ground Floor. New slates include dramas Good Behavior, starring Michelle Dockery, and Animal Kingdom, with Ellen Barkin, at TNT; and comedies including TBS's People of Earth, from Conan O'Brien's company.
The Turner transformation kicked off last week with the Jan. 17 premiere of Rashida Jones' new TBS comedy Angie Tribeca. Reilly shares what else is on tap.
You have said that parent company Time Warner is investing in your networks. Where is the money going?
We have a really significant budget to begin with, between entertainment and sports. We have spent particularly on the acquisitions side, where we have assembled the rogues' gallery of off-network acquisitions [such as TBS' syndicated run of The Big Bang Theory], we've been one of the biggest spenders out there. And if you look at TNT's amount of hours, we have outpaced the competitors for many years. Whether or not it's the exact shows I'm doing, the quantity has been there. Not on TBS. That's where a lot of the increase in spending will go initially. I think we went as fast as we could responsibly go while doing quality. Some of that is the benefit you get of a new regime.
Why the move toward more upscale, serialized drama? Why can't you stick with procedurals?
It's hard because there is an audience for that kind of fare, and TNT has served it up and had an unbelievably loyal audience. I cant tell you how many women between the ages of 60 and 75 have grabbed my wrist and said, "You're not going to change my network, are you?"
Now, I'd like to to hang on to those viewers. I think a show like Good Behavior will hang on to a chunk of the women viewers in particular. There hasn't been as much for men to watch. We see a huge male audience that turns the network on for basketball and then never comes back again unless they see a movie once in a while. Really, it's just competing with the good stuff. There's too much good television out there now and I think if we make the more traditional, kind of expected kind of television, I just simply don't know how to make noise in this incredibly competitive environment.
RELATED: Why Too Much Television Isn't Necessarily a Bad Thing
TNT had already veered outside its traditional audience with male-oriented shows The Last Ship and Falling Skies.
It did pretty well with it. Falling Skies had a good run and Last Ship has done some business. Those were a little outside the box and we will continue in the genre. But if you go half-in and make slightly edgy versions of shows–which is also what the broadcast networks suffer from–you're now making a show for nobody. You're not making a show for somebody who watches Rizzoli & Isles, and you're not making a show for somebody who watches Breaking Bad.
You and USA are at the same crossroads and appear to be trying to do the same thing.
I give them credit where it's due. They stuck the landing on Mr. Robot. I'm not thrilled about it, because I don't really need them in our business and I didn't think culturally they had it in them either. They did a really good job executing that and launching it. I think a lot of networks have done the analysis, and said, to be a destination show, you've got to really hit a bull's eye with a particular audience. That sort of "little something good for everybody" is not going to fly anymore. We'll see who can consistently execute it.
RELATED: How Mr. Robot Changed the TV Game for the USA Network
Are the ratings pressures less than they used to be?
Yes and no. At some level, what are you going to do? The Nielsen measurement is so out of whack. On the other hand, until we replace the universal measurement on the ad sales side, that is a problem. That is our metric and until we all move to a better metric, it really gets in our way on the business front.
You're promising fewer ads and more content in your new shows. How will that work?
I expect advertisers to sign on, because there's a lot of interest in it. The question is, can we get it to pencil out? It means a deeper involvement with the show, almost going back to being an exclusive sponsor. We have to acknowledge that's [the number of advertisements during a one-hour show] is not a great consumer experience when there are now other choices. We're determined to try and make it better. Will someone watch a mediocre show because there are less ads in it? No.
But when you put more content in a show, viewing time goes up. If viewing time goes up, ratings go up. I do believe some of the ratings lift will offset whatever revenue we may not be able to book on the ad side. Ads work. If ads didn't work and people weren't watching TV ads, they would have gone away a long time ago. They do get through and they do work. But the environment of having 20something minutes of ads per hour is just a bad viewing experience.
What's your commitment to Conan?
The show is consistently good but was starting to feel a little like an obscurity, both because it's been isolated on TBS and because of the format, no matter how good it is. I sat down with him before I started the job. He was already cooking up these remote things and I said, please do more of that. Within weeks of my arrival, I saw that spark go off. He has been an amazing partner. I think this year, he's doing work that's some of the best he's done, and some of the best stuff out there. I will say it's weird for all the talk shows to tout how many people are watching on YouTube, which is almost useless to us. So we have to figure out how to covert that to a more valuable experience.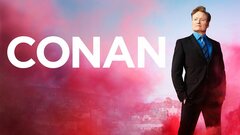 Conan
where to stream
Powered by