5 Reasons to Love 'Angie Tribeca's Rashida Jones
Rashida Jones kept Leslie Knope sane as her BFF, Ann Perkins, on Parks and Recreation, but now she's the one bringing the insanity with Angie Tribeca, TBS's new crime-show parody. In an appropriately off-the-wall move, the series debuts with a 25-hour, commercial-free marathon of the first 10 episodes on loop (dubbed Season 1) with new episodes coming on a weekly basis after that. Here are five reasons we'll be tuning in to see the lovable star at the show's center.
RELATED: More New Shows Premiering in Winter
1. She can write. After penning indie film Celeste & Jesse Forever and writing for NBC's rom-com A to Z (she was also one of the executive producers), Jones will next script Pixar's highly anticipated Toy Story 4. "Obviously, it's one of the most beloved trilogies of all time," she says. "[So] it's a very detailed process."
2. She wants superpowers. On Hulu's animated series The Awesomes, Jones played Hotwire, a hero who can manipulate electricity. But the actress would rather be able to fly. "I could beat traffic, [and] I could give people rides," she says.
3. She uses her fame for good. Case in point: her recent documentary exploring the dangers faced by young women in pornography. Says Jones, "If a Parks and Rec fan watches Hot Girls Wanted just because they know my name and for no other reason, hopefully they'll learn something about the world they didn't know about."
4. She binges. Jones is pumped for Angie's atypical release, as she enjoys a good session of Netflix and chill. The last thing she queued up? The sketch show W/Bob and David.
5. But she still leaves time for traditional TV viewing. Jones is a big fan of the procedurals that Angie spoofs. "I find them bizarrely soothing," she says. "If there's an episode of Law & Order on, it's getting watched."
Angie Tribeca, Series premiere, Sunday, Jan. 17, 9/8c, TBS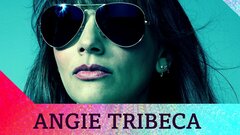 Powered by