How 'Mr. Robot' Is Changing the Game for USA Network
USA Network, for one, welcomes its new Robot overlords.
While Season 1 of its Mr. Robot invasion ends Wednesday night, USA is already counting on buzz surrounding the freshman drama to help push its brand toward more younger-skewing, edgier fare.
"Mr. Robot represents an extension of the evolution we had had already been beginning with Suits and Graceland," says USA original programming senior vice president Alex Sepiol. "Those shows are heavily serialized and have a lot of imperfect characters in ambiguous situations. It's great to have a show like Mr. Robot where you really demonstrate to the creative community what we're like now."
RELATED: See the Cast of Mr. Robot Goof Off Behind the Scenes
USA has come a long way from its former diet of blue-sky fare like Burn Notice. Like its chief competitor Turner Broadcasting, USA has been eager to add a bit more heat to its roster. While Turner's TNT has yet to ramp up its channel makeover, USA now has a template in place thanks to Mr. Robot.
Next up: The drama Colony, starring Josh Holloway and Sarah Wayne Callies as a couple looking to undermine a conquering alien army in Los Angeles, and the drug cartel series Queen of the South, both of which premiere in 2016. Not everything in this New USA Order has worked: The channel recently opted not to renew Complications.
"We loved the show creatively, and working with [executive producer] Matt Nix is always fantastic," Sepiol says of that show. "It's a shame we weren't able to move forward with a second season."
Mr. Robot, on the other hand, was ordered to second season before the show even debuted, thanks to early critical acclaim–beginning with a world premiere at the South by Southwest festival. The tech community has also embraced the show, such as Netscape co-founder Marc Andreessen, who raves about the show on Twitter.
RELATED: How Mr Robot Gets Its Hacks Right
Sepiol is especially proud of Mr. Robot because the network took a chance in creator Sam Esmail, who was a virtually unknown writer when his representatives at ICM and Anonymous Content began shopping the show.
"It was the first script we ever read from Sam," Sepiol says. "We got it as a finished pilot script and immediately fell in love with Sam's voice and the character of Elliot."
Along with the script, Esmail also sent USA a detailed show bible, laying out every episode of what a Mr. Robot Season 1 might look like. Esmail had originally conceived Mr. Robot as a feature; retooled as a TV series, the first season was set up as the story's first act.
"When Sam came in to discuss it, he talked about his own background, including some youthful hacking indiscretions," Sepiol says, "and how he had been inspired by the Arab Spring, being Egyptian-American himself, having cousins over there and seeing the power of social media."
USA also went unconventional with its casting, hiring Rami Malek (The Pacific, 24) to play the emotionally damaged hacker Elliot Alderson, while Christian Slater–unlucky on TV after a string of failed shows–was brought in to play the mysterious Mr. Robot. ("I've been a huge Christian Slater fan for a long time," Sepiol says, "and a huge fan of Pump Up the Volume. It's interesting to see these rants come out of him; it reminds me of that film and Heathers.")
Sepiol says beyond the pilot, USA's notes focused on how to balance the show's characters and also how to make sure their actions are properly motivated. There was also much debate about when to reveal the show's big secrets–including who Mr. Robot really is.
"He needed to get these reveals out of the way to set up the world of the show and where it goes from here," Sepiol says. "A lot of people online were making references to Fight Club and who Mr. Robot was, and whether he was real or not. I didn't see a lot of people predicting the Darlene (Carly Chaikin) reveal, and I think that was the one that upended expectations."
RELATED: Critic Matt Roush on Whether Mr. Robot Is the Show of the Summer
Esmail also exhibited a knack for mirroring real-world headlines.
The show's pilot was written, directed and shot before the Sony hack made computer security a hot topic in Hollywood. But the pilot was delivered to USA execs last winter right as the hack was gaining steam.
"The timing was eerie," Sepiol says.
More recently, plans by the show's characters to wreak havoc on Wall Street has come as the actual stock market has become volatile over the last few weeks.
"Sam has an uncanny ability to tap into the zeitgeist," he says. "Every major theme the show has been exploring has also been found on the news pages… The show hits a nerve because technology and its impact on society is something that a lot of people think about but it hasn't really been captured in a dramatic series as well before."
But no one could have predicted the tragic real-life events that led USA to postpone last week's Mr. Robot season finale. A scene in the episode was slightly similar to the actual killings last Wednesday of Roanoke reporter Alison Parker and cameraman Adam Ward, who were shot on live TV.
On Wednesday's Mr. Robot episode, someone is shot on live TV. Any similarity to the real-life event ends there, but Sepiol says the comparison was enough to push the episode a week. The decision was made "quickly" after the news hit, he says.
"It's horrible and tragic that there was a shooting that did have some eerie parallels to a scene that we had already wrote, directed and shot," Sepiol says. "There are some big differences as well. The only major overlap is that it's on camera, it's news, it's a shooting. But given the climate and wanting to be as sensitive as possible to the public that has gone through a traumatic event, we wanted to postpone it and not have anyone further traumatized. We feel like it's different enough that when we air it this week there has been a little more time."
Meanwhile, now that Esmail has wrapped post-production on Season 1, he already has a plan in place for Season 2, set to air in 2016.
"The worst part of working on this show is knowing where it goes," Sepiol says. "Because I'd love to just be able to watch the twists and reveals unspool themselves. But unfortunately I do know some stuff."
[jwplatform U5mVGNUY]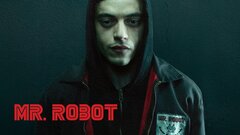 Powered by