'Arrow' Says Goodbye to a Beloved Character, Welcomes Back Two Others
[Spoiler Alert: This article contains plot points about the March 29 episode of Arrow.]
It's never easy saying goodbye to favorite characters, especially if they've been a part of the show since the very beginning.
Surely some Arrow fans are feeling that pain today as they said goodbye to [Spoiler] Thea Queen (Willa Holland) on last night's episode. You could say her exit was unsurprising considering that her character appeared in far less episodes than usual this season, but that doesn't make it any less devastating.
See Also
The corruption in Star City P.D. goes all the way to the top.
In the episode, Thea is prepared to leave town with Roy (Colton Haynes), but is halted by the arrival of The Thanatos Guild (which also happens to be the episode's title). The organization, created by her late father Malcolm Merlyn (John Barrowman), is the successor of the League of Assassins.
Left with no other choice, Thea suits up as Speedy once again and flees town with Roy and Nyssa (Katrina Law) by her side to find newly revealed Lazarus Pits and destroy them. Her new quest was the answer to her exit on the show, as Thea will no longer be a series regular character.
While it has been confirmed that she's exited the show, the fact that Thea didn't die leaves fans with a good chance that they may see her again some day. And as one person exits, two others enter.
These former characters will make appearances in the sixth season with one of them being in the finale. Colin Donnell (Chicago Med) who played Tommy Merlyn will come back to the show in flashback form, but was on set to do so according to Stephen Amell's Twitter page.
21 episodes into Season 6 and I still haven't shot a flashback. So this picture… this picture feels really good! pic.twitter.com/UCx3cQ7q88

— Stephen Amell (@StephenAmell) March 29, 2018
Guess who's coming back for #Arrow season finale? 😈 https://t.co/CkkdwOJI7l pic.twitter.com/xACtnYnxsi

— Caity Lotz (@caitylotz) March 29, 2018
Caity Lotz will reprise her role as Sara Lance in Arrow's Season 6 finale, as you can see from the second tweet. So, while it's tough to say goodbye, the example of these Season 6 reprisals is proof that Thea may some day return to the show. Until then, fans can look forward to the arrivals of Donnell and Lotz's characters.
Arrow, Wednesdays, 8/7c, The CW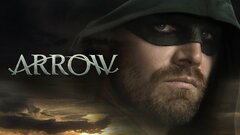 Arrow
where to stream
Powered by