'Arrow' Sneak Peek: Is Dinah in a Dirty Cop's Crosshairs? (VIDEO)
Oh, that shady Captain Hill.
Ever since it was revealed on Arrow that Star City's police honcho (Tina Huang) was in cahoots with super-villain Ricardo Diaz (Kirk Acevedo), we've been keeping an eye on her. Sure, she helped make it possible for Diaz to dispatch James while he was in police custody (which, I mean, yay, he was awful), but still, Hill is no bueno.
See Also
Someone on the team is in trouble and only Black Canary is in on the secret.
From the looks of this exclusive clip from tonight's episode, entitled "The Thanatos Guild," the Captain is up to some lowdown business again.
Even though Dinah (Juliana Harkavy) is on the case and completely capable of handling the murder of a drug dealer, Hill crashes her crime scene and engages the feather-haired off-duty Canary in a bit of one-upwomanship that clearly sets off Det. Drake's spidey senses. And if her nasty demeanor wasn't hint enough, Hill's demand for the evidence to be left in her care sure earns some side-eye.
Hopefully Dinah can deal with this one quickly and actually provide some sort of backup to O.G. Team Arrow because this is also the episode that fires up the League of Assassins situation. And after seeing Thea nearly die at the hands of Diaz last week, they'll probably need all the help they can get.
Arrow, Thursdays, 9/8c, The CW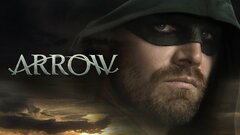 Arrow
where to stream
Powered by