Will Dr. Glassman Die? Is Dr. Murphy Fired? 'Good Doctor' EP David Shore Spills
ABC's The Good Doctor was a hit from its premiere all the way up to its gripping season finale.
The March 26 final episode really delivered on what fans have grown to love—specifically, the fraught but tender friendship between autistic savant surgeon Shaun Murphy (Freddie Highmore) and mentor and surrogate father Dr. Aaron Glassman (Richard Schiff).
Increasing the emotional quotient: Shaun's continuing struggle to prove his value to San Jose St. Bonaventure Hospital, and his heart-rending obsession that Glassman's aggressive brain cancer diagnosis was incorrect.
The show's co-creator and executive producer David Shore explains it all to TV Insider, and offers some tidbits about Season 2.
A well-deserved congratulations for a terrific season finale of The Good Doctor. The scenes between Schiff and Highmore were intense. You certainly went all out with the emotion.
David Shore: We worked on those scenes a lot. Richard, Freddy, myself, and the director met on a weekend to rehearse those scenes. That's not typical on TV. We shot them largely in order and blocked them separately for four days [before shooting] those scenes.
They were very moving. Was it a test for Shaun to give his mentor brain cancer? Did he pass or fail?
That is a really good question. Yes, it certainly was on a certain level. Shaun should have been reaching out to hold Dr. Glassman's hand when he got his diagnosis. I don't mean that literally, although possibly. When a friend is sick, [the friend's] job is to be a friend. Dr Murphy chose to be a doctor more than a friend. And as a result, on a certain level, it made things worse for his mentor. He ultimately succeeded as a doctor—arguably, he got lucky. He might have been wrong, but I think in that very last moment, he succeeded as a friend.
Shaun showed growth when he actually listened to Dr. Glassman and repeated what his deceased daughter had said to him: 'I love you more.' Was that moment important for the character?
It was. Up until then, he failed. But in that moment he showed a lot of growth, as you said, and succeeded very much as a mentee, as a friend, and as a surrogate son.
The scenes that showed Shaun's autism take over over were very painful to watch. Was that a lesson about his condition?
Yes, it was very challenging because we love him and we're watching him fall apart in a situation in which any of us would, to some extent, fall apart. But his limitations and the depth of his feelings conspired against him. [They were] brilliantly portrayed by Freddie.
His non-stop mission to get Dr. Glassman an accurate diagnosis was a win, but then you threw in a loss—he made a surgical mistake that threatened a patient's life. Did autism have anything with his error or could that happen to any surgeon?
That's an open question. His autism is not irrelevant to what happened. He's capable of great focus and capable of great distraction. When he's in the operating room, he's at peace. But then you present him with the reality that his mentor is dying. So how do those two thoughts coexist? And that is what was happening there.
Despite her bias against Shaun, Dr. Reznick (Fiona Gubelmann) got it absolutely right when she talked about the two sides of his autism. How it makes him a great surgeon but it could also make him lose focus and really screw up, as he did in the finale.
She was 100 percent right there. On some level, it takes somebody who is not his friend to recognize the reality. She also was the first to identify that he might have been the one who screwed up. Yes, she is selfish and she's aggressive, but she is also arguably more objective than anybody else in the operating room, which is a useful skill.
Would you also say that Dr. Reznick is as deficient in human interaction as Shaun? Perhaps in a meaner, as you say, more selfish way? Is there something lacking in the character?
There are parallels between the two. She states things very bluntly, similar to Shaun. But it comes with a judgment from her and it is a lot more calculating from her. There's a loneliness there, I think.
Shaun will not be deterred from telling surgery chief Dr. Andrews (Hill Harper) about his error, even though he knows Dr. Glassman pledged to quit if Shawn screwed up. Correct?
Yes. He sees this as the right thing to do and the consequences are not that relevant. To him, it's the equivalent of the fact that the boy is going to live does not mean Shaun did not screw up operating on him.
It did seem that, when the episode ended, Dr. Andrews was predisposed toward not firing Shaun for his mistake. Is that true?
We can expect that Shaun will be back at San Jose St. Bonaventure Hospital, but things are going to be very different.
How? Does that mean he'll have a minder?
I don't know how it's going to manifest itself, but it's got to be different.
How much time will have passed when the show returns? Dr. Glassman has an operation plus several months of radiation and chemo to get through—will that be over?
No. I want to go through that with him.
You're not taking the course that a lot of shows do in skipping time so the treatment will be over. You're not guaranteeing that Dr. Glassman will survive, even though his cancer was found to not be as fatal as initially deemed?
Well, exactly.. He's not better, but there's hope. He's not out of the woods, by any means—neither professionally nor personally.
We live in a time when popular cast members are frequently killed off.

I actually think we go to that well a little too quickly on TV now. I find it much more interesting, rather than just kill them off, to explore their mortality over a lengthy period of time.
Can Dr. Glassman keep his job as hospital president while he's so sick? Legally, I assume he has to for a least a short period of time. Will a character have to fill in for him?
We'll see.
How long will the jostling among the residents go on before the hiring process is over?
Forever.
So none of the residents are leaving soon?
I don't know. I can't make that promise.
Will Shaun's friend and crush Lea (Paige Spara) return?
Yes. I'm going to promise you that.
And how about Glassman's new friend, the 'not really a Jew,' Debbie? (She's played by Schiff's real-life wife, Sheila Kelly.)

[Laughs] I enjoyed that relationship. So probably
Short as it was, I thought that pairing, thanks to Freddie, was funny and somehow sweet. You also brought in Will Yun Lee as Dr. Alex Park. Is he a regular now?
Nothing's been formally determined for next year.
The Good Doctor is based on a Korean show. Not that Lee isn't a fine actor, but did your co-producer, Daniel Dae Kim, request a Korean actor for the role?
Diversity is important to all of us and it's very, very important to Daniel, so we support him in that regard. We do love the idea of seeing some Korean faces on our show. We want to reflect America.
It is a very diverse cast, including a lot of British actors.
Yeah. [Laughs] Filming in Canada with English actors.
Will all the major characters be back?
I can't say that for sure. I wish I could.
Will there be any new regulars or recurring cast members next season?
We expanded quite a bit towards the end of the year. I don't expect to be adding anybody at the beginning of next year. I do love the idea of continually expanding our world.
Are you hoping the show will stay where it is? Networks are notorious for moving successful shows to help weak nights or time slots.
I want to have whatever time slot gets me the highest ratings. I just want to be in front of as many eyeballs as possible. We've done very well this year. Fundamentally, I just want to say on the air and be watched.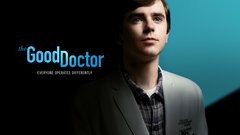 Powered by