What's New at 'The Zoo'? Sneak Peek at the 'Bears Will Be Bears' Episode (VIDEO)
Plenty of people who visit the zoo really dig the bears. But it turns out that bears themselves really dig digging!
So, the staff at the world-renowned Bronx Zoo—the subject of Animal Planet's hit docuseries The Zoo, now in its second season—must find ways to keep their ursine residents otherwise occupied and entertained (partly to protect their enclosure from destruction, but also to keep the bears themselves safe from injury and boredom).
In the exclusive clip below, from Saturday's new episode of The Zoo called "Bears Will Be Bears," workers try to fill in an area beneath a large rock that tends to draw the digging interest of the zoo's brown bears, and which could pose a hazard if it fell on them because of their scraping and clawing.
Then, the staff tries to find other ways of giving these animals enrichment and entertainment, including taking their attention away from digging with the enticement of peanut butter-smeared sticks filled with treats!
Can you "bear" watching the clip?
"Digging" seems to be the theme of this episode, which also finds Armani the aardvark getting treated for a tooth infection that has dampened her own enthusiasm for digging; and, a group of burrowing owls preparing to move.
The Zoo, Saturdays, 9/8c, Animal Planet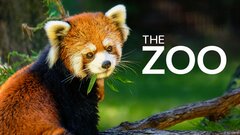 The Zoo
where to stream
Powered by