It's a Beautiful Day for the Mister Rogers Doc 'Won't You Be My Neighbor?' (VIDEO)
Fred Rogers—better known and beloved to generations of children as TV's kindly Mister Rogers— would have turned 90 today (birth date March 20, 1928). So it's a perfect day for the release of the trailer for a new Focus Features documentary called Won't You Be My Neighbor?
The documentary looks at the life of Rogers and his iconic television creation Mister Rogers' Neighborhood—the classic series in which Rogers and his cast of puppets and friends spoke directly to young children about some of life's weightiest issues, in a simple, direct fashion, and which still remains unique among children's programming.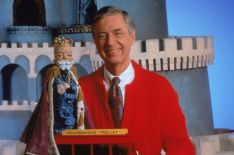 See Also
Many specials and more will air to celebrate the golden anniversary of the children's show.
In Won't You Be My Neighbor?, which will hit select theaters on June 8, Academy Award-winning filmmaker Morgan Neville (Twenty Feet from Stardom) looks back on the legacy of Rogers, focusing on his radically kind ideas. While the nation changed around him, Fred Rogers stood firm in his beliefs about the importance of protecting childhood.
Watch the film's trailer here, and don't be surprised if a few tears of happiness and recognition start to swell up no matter what generation you are from:
Won't You Be My Neighbor? is the latest project to help commemorate a momentous year for Rogers' legacy. Not only is it the 90th anniversary of the birth of the man himself, but in February, the 50th anniversary of the nationwide debut of Mister Rogers' Neighborhood on PBS was celebrated, including with the It's You I Like special on that network. And this fall, Tom Hanks will begin shooting the big-screen feature You Are My Friend, in which the Oscar-winning actor will portray Fred Rogers.
Considering all that love Fred Rogers still has, it's been frustrating that original episodes of Mister Rogers' Neighborhood have been fairly hard to come by in recent years. The free online streaming service Twitch has an answer to that—it will a special marathon of the 90 most popular episodes of the classic series on Tuesday, March 20, in honor of what would have been Rogers' 90th birthday. The marathon begins March 20 at 10am PT.
Check out the Twitch stream of the marathon here:
Watch live video from MisterRogers on www.twitch.tv
Following the marathon, Twitch will then stream the complete run of the series—all 886 episodes.
It truly is a beautiful day in the neighborhood.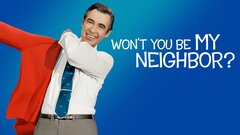 Powered by