Star-Studded PBS Special to Remember 50 Years of 'Mister Rogers' Neighborhood'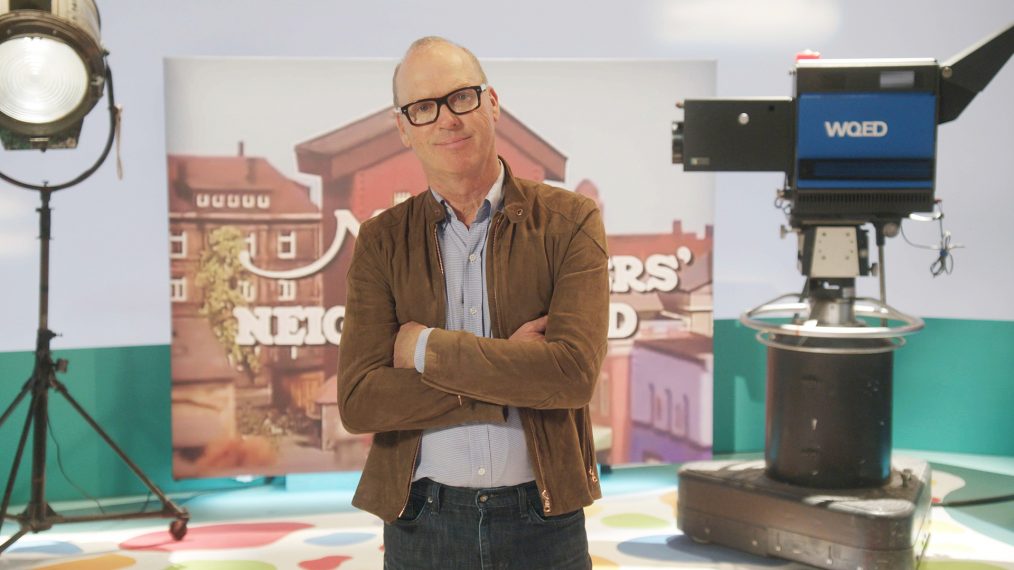 It didn't matter whether you grew up regularly watching Mister Rogers' Neighborhood or not—the show's kindly, sweet-natured creator and host Fred Rogers was always a person whom many people wished could be their real-life neighbor. But visiting him on television was the next best thing. And even though his long-running series ended in 2001 (with reruns hard to come by in recent years), and Rogers himself passed away in 2003, his name and his creation remain in people's minds and hearts.
That's been especially apparent recently as we approach the 50th anniversary of the national premiere of Mister Rogers' Neighborhood. Although an earlier incarnation of the now-iconic children's television program aired in Canada from 1963-66, and then regionally in the Eastern U.S. starting in 1966, it wasn't until Feb. 19, 1968, when public television viewers across the country would be introduced to Fred Rogers and his magical neighborhood.
That half-century and counting of neighborliness has not been forgotten—not by those who watched and learned from the show, and not by other artistic creators. It was announced this week that—in a perfect bit of "nice guy" casting—"America's Dad" Tom Hanks will be playing "America's Neighbor" Fred Rogers in the upcoming theatrical biopic You Are My Friend.
And on Thursday it was announced that PBS, the show's longtime home, will be airing a celebratory special called Mister Rogers: It's You I Like, an hourlong tribute to Fred and his show that takes its name from one of the host's most famous tunes.
The special, debuting the evening of March 6 on PBS (check your local listings to be sure), is hosted by Michael Keaton, who used to work as a stagehand and made occasional appearances on the show in the '70s (most memorably as one of the "Flying Zookeeni Brothers"). Keaton offers fun insight into the making of the show, and into working with Fred.
Plenty of other celebrities also show up to talk about how Mister Rogers' Neighborhood impacted them, whether through watching it or appearing on it, or both. Whoopi Goldberg weighs in on how she thought Fred Rogers—despite his sweater and sneaker attire that may have been dubbed "nerdy" by some— was "one of the coolest men on the planet" thanks to how often he had musical guests on, and helped introduce children to genres like jazz and classical music.
Others who reminisce about and celebrate the show's impact include Judd Apatow, opera singer Joyce DiDonato, Chris Kratt, John Lithgow, cellist Yo-Yo Ma (who appeared on the show and performed with his son Nicholas in 1990, with that segment featured in the special; a now adult-Nicholas is also interviewed), Itzhak Perlman, Sarah Silverman, Esperanza Spalding and Caroll Spinney (the actor who plays Big Bird on that other iconic PBS kids' series, Sesame Street).
Plenty of notable moments from the show's nearly 900 episodes are also featured in It's You I Like, ranging from performances by musical artists like Tony Bennett, Hillary Hahn and Wynton Marsalis, to segments featuring Fred's meeting with Koko the Gorilla, trips to the Crayola Factory and much more.
Ahead of Mister Rogers: It's You I Like, a 50th anniversary Mister Rogers' Neighborhood/Daniel Tiger's Neighborhood theme week will air on PBS Kids. Daniel Tiger's Neighborhood is a more recent, animated series that has taken up the Mister Rogers mantle, starring the son of one of the former show's most popular characters. Each day during this theme week, which runs Feb. 26-March 2, PBS Kids will pair Daniel Tiger's Neighborhood episodes with the Mister Rogers' Neighborhood episodes that inspired them.
Mister Rogers: It's You I Like, premieres March 6 on PBS (or check local listings)
Daniel Tiger's Neighborhood/Mister Rogers' Neighborhood 50th Anniversary Theme Week, Feb. 26-March 2 on PBS Kids (check local listings for times)