'Family Guy' Addresses Stewie's Sexuality and Reveals His 'Real' Voice (VIDEO)
[Spoiler alert: This post contains spoilers from the March 18 Family Guy episode "Send in Stewie, Please"]
Since the beginning of its nearly 20 years (and counting) on the air, Fox's animated hit Family Guy has played with the idea of toddler Stewie's (voiced by series creator Seth MacFarlane) sexuality.
It has also given us hints as to just how in the world the evil super-genius could have sprung from decidedly average parents like Peter and Lois Griffin, and how he could have developed his Rex Harrison-esque British accent. (Even the notion of whether everyone can even understand Stewie has been in flux over the years.)
See Also
Cartoons aren't just for kids any more, as these 5 shows prove.
On Sunday's commercial-free, Stewie-centered episode of Family Guy, called "Send in Stewie, Please" (the series' 300th episode), both of these characteristics of the troublemaking toddler came to the forefront during a therapy session with school psychologist Dr. Cecil Pritchfield (voiced by Sir Ian McKellen).
One question seems to have been answered (at least, for the purposes of that particular episode), while the other topic remained more of an open question, even as we gained more insight into it.
Longtime Family Guy writer Gary Janetti (who worked with McKellen on the hilarious Vicious series) scripted the episode, during which Stewie begins things by telling the good doctor, "I'm not gay. … If anything, I'm less gay than I used to be—not that anybody at this school would care. But do I think that [The Flash star] Grant Gustin and I would make the most adorable Instagram couple? Yes, yes we would."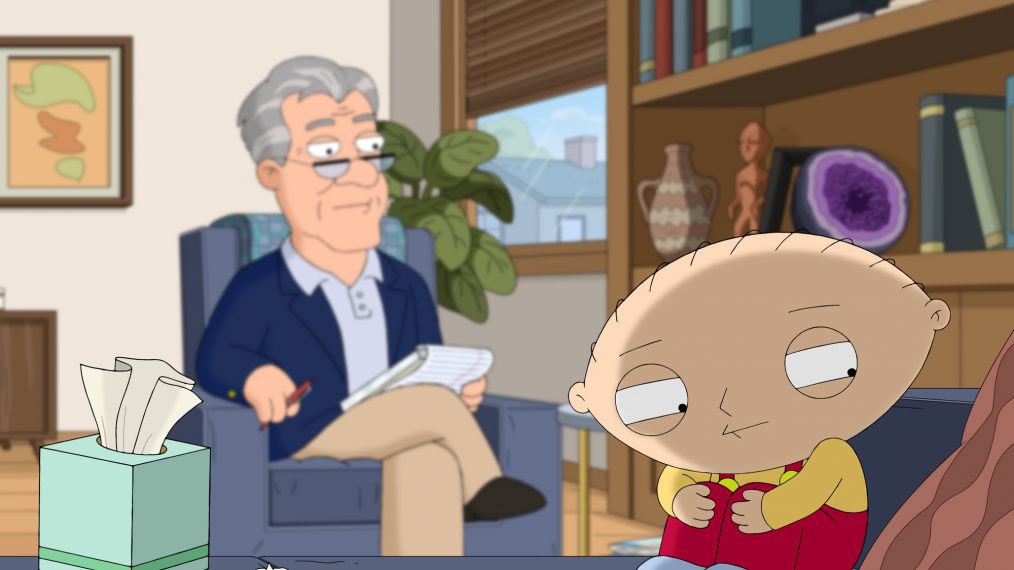 So, again, we are generally left with the impression that Stewie's sexual orientation is "fluid," which makes sense—a child his age wouldn't actually deal with or consciously think of such things, even in a hyper-realized animated comedy series. But it was interesting to see how self-aware Stewie is about such complicated feelings, even if he isn't fully aware of what they are. He's come to the realization that this is something he will be dealing with more fully later in life.
"The intention for Stewie is never to come out as gay or not gay," Janetti told Entertainment Weekly about the episode. "He will be forever in this state of confusion, as you would be when you're that age. Ultimately, it's more interesting to dig deeper than that."
The episode did also dig more deeply into another aspect of Stewie's feelings of being an outsider—reflected in that unique, British-accented voice of his.
Eventually, Stewie reveals to the doctor that this accent is nothing but "an affectation … a coat of armor to get me through the day." Stewie says this in what he claims is his real voice, which sounds like a normal small boy (if infused a bit with his father's New England accent).
Check out Stewie's "real" voice here:
When Pritchfield (who has a real British accent) tells Stewie that he can't detect any difference between his "real" voice and the other one, it sends the child into a rage. He jumps into a bunch of other voices (all done by Seth MacFarlane), from Peter to Quagmire to Tom Tucker and even Roger the alien from American Dad.
Pritchfield responds, "I'm sorry, that just all sounds like the same person," a funny reference to digs MacFarlane has received for having a similar sound with his many character voices.
Whether Stewie will start more regularly using his "real" voice, or whether this was more of a one-off thing—like when Brian "died" and was replaced with another dog for a few episodes—remains to be seen. New insights into himself aside, Stewie is still Stewie, and by the end of the episode, he made sure that the doctor would not be in any position to tell anyone what transpired during his session.
See Also
'Possible Worlds' goes boldly into the final frontier's nooks and crannies.
"Send in Stewie, Please" at least made for compelling insight into a character whom viewers have known for decades now, making him seem a little newer. And that's hard to come by on any show, let alone an animated comedy.
Family Guy, Sundays, 9/8c, Fox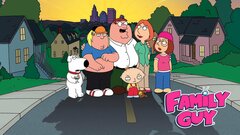 Powered by